Excellence Awards 2023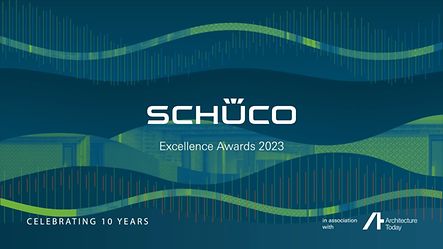 Creativity, innovation, technical expertise and skilful execution
Now in its tenth year, the Schüco Excellence Awards is an established and prestigious showcase for the best in façade design, covering projects both large and small, in urban and rural locations, and designed by practices and specialist contractors of all sizes. Some of the Award categories have changed or been redefined over the last decade to reflect the evolving nature of the construction industry and the wider built environment. This year saw the addition of the Major Project Award for Schüco façades of at least 1,000-square-metres, and the Education Building Award returning to a stand-alone category for the first time since 2019.
Meet the judges
Excellent façade design requires imagination, technical expertise, skilful delivery and, above all, close collaboration. The latter is particularly important as, without the input of an inventive and rigorous architect, a responsive and forward thinking manufacturer, and a flexible yet pragmatic specialist contractor, façade designs will rarely if ever reach their full potential. Alongside these attributes, the Awards also highlighted the importance of good environmental design, including daylighting, solar control, ventilation, and energy performance; fundamental issues given our Climate Emergency. Chaired by Architecture Today editor Isabel Allen, the 2023 jury comprised architects Ingrid Petit (Feilden Fowles), Carol Patterson (OMA), Holly Galbraith (Níall McLaughlin Architects), and Barbara Weiss (Barbara Weiss Architects) – all previous Schüco Award winners – as well as façade specialist Steve Mudie (Alinea Consulting), façade engineer Anna Wendt (Buro Happold), and environmental designer Innes Johnston (Max Fordham). Stuart Hosier, National Specification Manager at Schüco, provided additional technical insight on the entries. In their assessment of the projects, the judges focused on four key qualities:
 
Creativity
Does the project demonstrate design quality, whether on a macro and/or micro scale?
Innovation
Is there evidence of significant innovation in terms of design, detail or constructional skills?
Technical skill
Does the project show high levels of technical skill in its detailed design and/or assembly?
 
Creative collaboration
Does the project demonstrate a productive and creative collaboration between the designer, specialist contractor and/or manufacturer?
Register now..
Work material (e.g. tender specifications, BIM objects, CAD data, catalogues)
Note content
Direct contact to Schüco