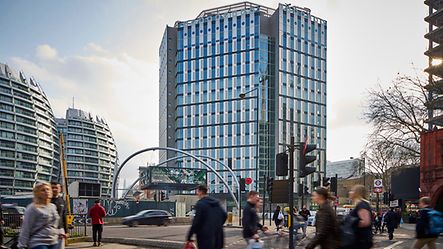 Anticipatory Architecture - Designing for change
On 20 April 2021, the UK government set in law a target to reduce carbon emissions by 78% by 2035, compared to 1990 levels. Given that the construction, operation and maintenance of the built environment accounts for 19% of the UK's total carbon emissions, it was timely the latest Schüco/Architecture Today webinar asked whether Passivhaus design can become the new norm for buildings?
Passivhaus buildings are designed to provide a high level of occupant comfort while using very little energy for heating and cooling. As such, they are designed and built with meticulous attention to detail according to principles developed by the Passivhaus Institute in Germany. Compared to standard new build in the UK, Passivhaus buildings can reduce space heating requirements by up to 75%, which is which is why they could help make a significant contribute to the government's carbon reduction target.
Key to any scheme achieving Passivhaus certification is an energy efficient building envelope. Fundamental to this "fabric first" approach is the requirement for high quality, energy efficient window, door and facade systems, such as those manufactured by Schüco.
Adam Booth, project architect at Fielden Clegg Bradley Studios, spoke about the challenges imposed by the Passivhaus fabric first approach in his webinar presentation on the practice's proposals for a housing complex of 150 low-energy apartments overlooking St Helier Harbour in Jersey. In developing the design, he said a key challenge was to find a compromise between minimising the area of of glazing to meet thermal criteria while maximising views out. To find the optimum solution, he said, had taken several design iterations.
One way to maximise the glazed area of a window is to use a triple glazed unit combined with a high performance, thermally-broken steel or aluminium frame, such as Schüco's AWS120 Composite Construction Super Insulation profile. This frame profile is more slender than a timber frame, which helps maximise views out and this particular window has the benefit of being Passivhaus-certified.
In her presentation, Ann-Marie Fallon, associate director at Architype, outlined some of the challenges and benefits involved in delivering schools to Passivhaus standards. What resonated with me was her description of Passivhaus being an energy performance standard and a quality assurance standard that can help to close the gap between theoretical performance and reality.
It was also reassuring to see that Architype was able to design Scotland's first Passivhaus secondary school - Currie Community High School - to exceed the Scottish Futures Trust energy target of 67kWh/m2/year within a conventional school construction budget.
Construction cost also featured in Matthew Traub and Gwilym Still's presentation. Traub is an associate at architect Allies & Morrison, Still is Passivhaus leader at engineer Max Fordham. The pair shared their approach to designing the ultra-low energy, all-electric Cranmer Road student accommodation for King's College, Cambridge.
At the time the scheme was designed, Traub said there was a 12% uplift in cost to build to Passivhaus. I think the industry has moved on since then, and if the team were to design the same scheme today any uplift cost would be negligible. For example, the cost of triple glazed windows with a U-value of 0.6w/m2/K, which is what is needed for Passivhaus compliance, has plummeted compared to four or five years ago. As the leading European designer of window systems, Schüco is aware that this type of window is now the standard on the Continent and it is fast becoming the norm in the UK.
Even with the 12% uplift in cost, the reduced running costs and higher quality of the Passivhaus build for Cranmer Road meant the client recovered the additional cost after 25 years.
Traub's colleague Gwilym Still, explained that because fabric losses were so low on Cranmer Road, the energy demand of ancillary equipment, such as the access control system, became proportionally more significant. As a result the scheme incorporated wireless access controls because these were more energy efficient than their hard-wired equivalent. This aligns with our thinking at Schüco. All of our door access systems and window operating systems are wireless. Sensors are economically incorporated into windows, for example, which can then connect wirelessly to a monitoring system to simplify installation to save time and money and energy - a perfect Passivhaus combination!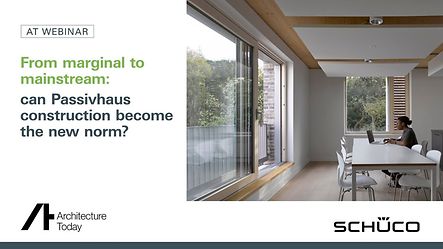 Register now..
Work material (e.g. tender specifications, BIM objects, CAD data, catalogues)
Note content
Direct contact to Schüco