Sustainable Façades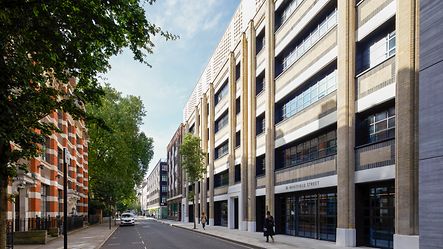 What makes a buildable, affordable façade that makes a positive contribution to the streetscape, offers protection from the current and predicted weather and contributes to the environmental performance of the building as a whole? The Schüco/Architecture Today Sustainable Façades webinar set out to answer this and other questions with a panel of experts.
Sandy Wright of Wright & Wright Architects explained how his practice had designed the façades of the new library and learning centre at St John's College, Oxford.
This linear building is located behind a listed 5m high wall on one side while on the other side is a courtyard, which could not be overlooked. The architect's solution was to bring daylight in from above and to exploit a large-format Schüco corner window to allow light and fresh air to enter the building.
The scheme uses the highly insulated Schüco AES80 Tiptronic sliding units, which can be opened and closed manually or under the control of the BMS.
An alternative Schüco non-sliding solution for all-glass corners is the FWS 35. This integrated façade corner system has been designed without vertical mullions for maximum transparency while still providing high levels of thermal insulation. 
Sandy also said that Wright & Wright were currently working on the design of another development for the university which was a Passivhaus scheme. Schüco AWS 90.SI is a super-insulated window system that is Passivhaus certified. This window is also available in a Green version, which uses a proportion of renewable materials from the plant Ricinus communis to manufacture the polyamide used in the insulating bars.
Make Architects' Mark Tynan used the example of 80 Charlotte Street, a major mixed-use development in London's Fitzrovia, to outline the challenges of reusing and retrofitting façades to respond to the materials and character of the surrounding architecture.
Mark's preference is for prefabricated, modular construction. This is a feature of Schüco unitised systems, such as the UDC80 and UDC80CV. He also showed a refurbished façade with a slimline steel window. The Schüco ARTE 2.0 is a slimline steel profile window, which is ideal for conservation projects.
Finally, Carol Patterson of the Office of Metropolitan Architecture's explained the role the façade played in creating a unified building to house the merged School of Science and the School of Sport to create a single vibrant building.
This project features full height, large span glazed areas to enable large amounts of light to enter. The scheme incorporates the Schüco FWS 35 façade corner system and the Schüco FWS 50 and Schüco FWS 60 high-performance mullion/transom façade with a 50mm and 60mm face width. The scheme also features a Schüco AWS VV ventilation vent to allow outside air into the rooms, while providing excellent weather-tightness and noise reduction.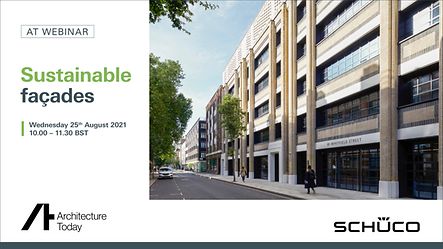 Register now..
Work material (e.g. tender specifications, BIM objects, CAD data, catalogues)
Note content
Direct contact to Schüco