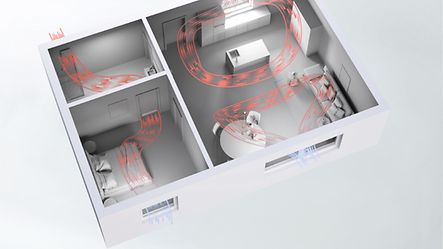 EnerPhit
On 19 October the UK government published its Heat and Buildings Strategy. This sets out how the government plans to cut carbon emissions from the UK's 30 million homes and businesses. So it was timely that the latest Schüco/Architecture Today webinar set out to answer the question...A Roadmap to Retrofit: is EnerPHit the answer?
EnerPHit is a slightly relaxed version of the Passivhaus standard aimed at retrofitting existing buildings to make them energy efficient. It follows the same principles as Passivhaus, which is to minimise heat losses through the building's fabric but sets the energy performance requirement at a slightly lower level to accommodate the challenges of working with existing buildings.
In their webinar presentations, Lee Marshall, MD of Viridis Building Services, Sanya Polescuk, principal of Sanya Polescuk Architects, and Rupert Daly of Collective Architecture all promoted the principle of high levels of insulation, whether to EnerPHit standards or similar.
Fundamental to any scheme achieving Passivhaus or EnerPHit compliance is an energy-efficient building envelope which is reliant on having high quality, energy-efficient window, door and façade systems, such as those developed by Schüco.
The Schüco range of Passivhaus certified products includes the triple-glazed AWS 120 CC Si and the AWS 90 Si+ window systems, the FWS 35 PD, FWS 50 Si and FWS 60 Si façades and the AD UP 90 Si door.
For schemes where Passivhaus certification is not a requirement but where excellent thermal performance is required, Schüco façade, window and door systems are available in both Hi (high insulation) and Si (super insulation) models. Both feature high-performing thermal breaks and gasket components but, because they use the same aluminium profile as other products in the range, their weight, sight-lines and embodied carbon content is unchanged.
To further reduce heat losses, all Schüco façade, window and door systems can be supplied triple glazed.
Alongside the thermal performance, minimising air leakage is also critical in reducing energy use. Schüco AvanTec concealed hinges have been designed specifically to ensure continuity of the air seal gasket for its window and door systems.
Of course, when a building's façade is airtight it is important to provide controlled ventilation. As an alternative to opening windows or a centralised MVHR unit, the Schüco VentoTherm system has been designed to be integrated into the top or side of a standard Schüco window system. These units incorporate fans and a heat exchanger to provide a decentralised ventilation supply and extract system where up to 80% of heat energy from the exhaust air can be recovered.
wall façade which is available with 30, 60 or 90 minutes of fire protection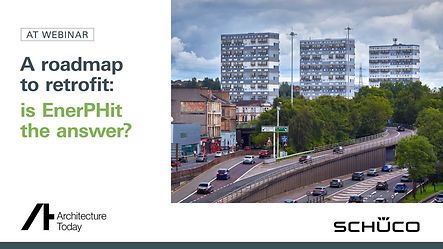 Register now..
Work material (e.g. tender specifications, BIM objects, CAD data, catalogues)
Note content
Direct contact to Schüco