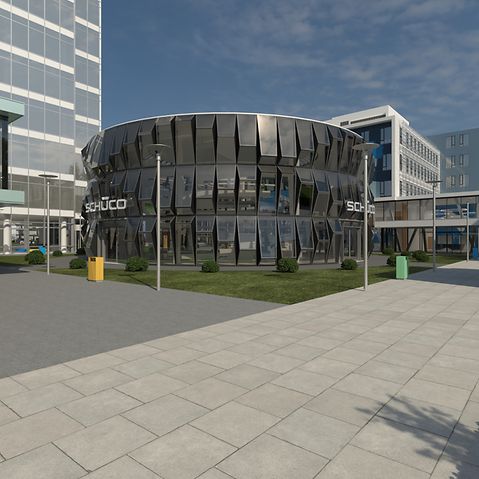 Take a walk around our virtual city
At Schüco innovation is what we thrive on, from the products and services we develop to providing solutions for our customers, whilst ensuring that we have a positive, sustainable impact on the world we live in.
Virtual City
Being able to visualise a product in the environment it has been created for can be difficult and that's why we have created our virtual city.  We have created a number of different buildings to demonstrate the versatility of Schüco products.
The city is easy to navigate around and puts product solutions in relevant applications for you to view.  Using your mouse you can turn around 360 degrees in the city.
The city contains a number of different buildings.  There is a highrise building featuring our aluminium facade UDC 80, which is a solution that deals with the challenges of today's construction requirements.  A school, hospital, residential homes, student accommodation, apartment building with retail units and in the heart of the city we have our Schüco Learning Centre. 
This is just the start of our city, over time we will expand and develop the city with more buildings, products and information, so visit regularly.