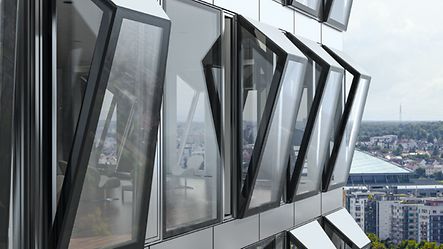 Sound, light and air
The COVID-19 pandemic has changed the way that we think about ventilation in buildings. In the past, the mantra was to prioritise insulation over ventilation. Now, this philosophy is being called into question as the scientific consensus is for more fresh air to reduce the risk of disease transmission.
Alongside indoor air quality, lighting and acoustic performance all play a vital role in supporting health and wellbeing. But, how can we make better use of opportunities to maximise natural light, access fresh air and control ambient noise for the wellbeing of occupants whilst meeting carbon targets? The latest Schüco/Architecture Today webinar: Sound, light and air - balancing comfort with environmental performance set out to explore potential solutions....
Alina White, an associate at architect Feilden Clegg Bradley Studios, used the example of 3 Chamberlain Square, Birmingham, in her presentation to show how daylight and natural ventilation have been incorporated into this post-COVID designed office, which is part of the Birmingham Paradise development.
Schüco is working with Feilden Clegg Bradley Studios on the design development of the 10-storey building's façade. The scheme incorporates a prefabricated, semi-bespoke unitised aluminium façade system based on the Schüco AF UDC80.
A major benefit of this system is its high degree of design freedom, which has enabled opaque areas of the façade to be integrated into the frame beneath the glazing to minimise heat gains. The façade has also been enhanced to support vertical terracotta fins to further minimise solar gains.
Natural ventilation is provided by integrated Schüco AWS90 BS Si triple glazed opening windows into every other window bay.
Nick Cramp, senior partner and Light+Air leader at consultant Max Fordham, explained how a holistic approach to developing lighting and ventilation designs was key to the practice's successful low energy solutions. Cramp used the example of the refurbishment of the Musée d'art de Nantes, where the consultant had uncovered roof-lights that had been concealed under a previous scheme to re-admit carefully controlled natural light into the interior.
The Schüco Panorama systems have been designed to enhance the amount of light entering a space. The FWS 35 PD, in particular, is designed with a narrow frame specifically to maximise the amount of natural daylight entering a room and to enhance views out.
The final speaker was Dr Shaun Fitzgerald, director of, Centre for Climate Repair at the University of Cambridge. Dr Fitzgerald worked with SAGE Environmental Modelling Group to advise the Government on ventilation strategies to minimise the spread of COVID-19. He said that ventilation was key to preventing the build-up of COVID and other viruses in buildings and that the focus for existing buildings should be on addressing poorly ventilated spaces.
The Schüco VentoThem Twist is a decentralised mechanical ventilation unit with heat recovery that can be integrated with Schüco AWS window systems to provide decentralised ventilation. The units feature air quality sensors to enable individually controlled demand-driven ventilation that can also meet the highest standards of energy efficiency.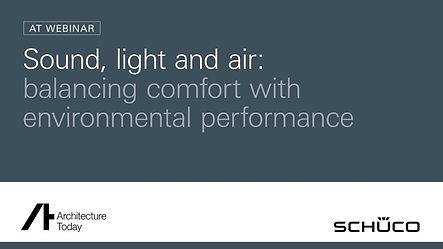 Register now..
Work material (e.g. tender specifications, BIM objects, CAD data, catalogues)
Note content
Direct contact to Schüco