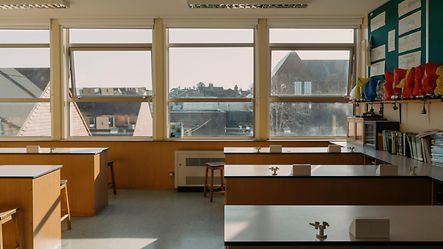 keeping children engaged, healthy and safe
In exploring current and future thinking in school design, the speakers at the Architecture Today webinar highlighted some of the key challenges of school design. What struck me was how many of these elements could be addressed through the use of high-quality window, door and façade systems, such as those produced by Schüco.
Dianna Fletcher, studio director at ADP Architecture, kicked off the session with a presentation on designing for wellbeing in education. Under the banner 'There is no health without mental health' she outlined how considered design can help address mental health in schools and universities under the five ways to wellbeing: Connect, Be Active, Take Notice, Keep learning and Give.
A key focus in delivering wellbeing was the importance of allowing daylight and sunlight into spaces. Interestingly, Dianna also explained the importance of rewarding movement through schools with views of nature and landscape features. This is precisely what products such as the Schüco Panorama Design window and curtain walling systems can provide. These systems have been designed to look good from the outside, but the real benefit of Panorama Design systems is that they look even better from inside because the units feature frame profiles that are so slim they do not interrupt the view.
Dianna also talked about the importance of having good acoustics in day-lit spaces and the need for fresh air in providing comfort. It is well known that double glazing is good at reducing noise transmission; triple glazing performs even better. Fortunately, all Schüco systems can be supplied with either double or triple glazed units, giving designers the option of using triple glazing on façades where noise is an issue.
The challenge for designers is that conventional window systems provide excellent acoustic insulation when closed, however, opening the window to let in fresh air also lets in noise. Schüco has successfully addressed this issue with its new acoustic window, AWS 90 AC, due to be launched later this year.
Next, Hugh Gatenby, founder of ArcEd, outlined his vision for technology-enabled learning. He wants to see technology utilised in schools to enable pupils with similar abilities to come together in small groups, even if each student is in a different town or even country. To accommodate this new way of learning, he said the spatial configuration of schools would need to be similar to those of co-working spaces. 
The final speaker was Jonathan Hines, Managing Director of Architype. He used his presentation to highlight the benefits of designing schools to Passivhaus standards and explained the benefits of a mechanical ventilation system in helping control aerosols to minimise the spread of COVID-19.
Passivhaus is a rigorous energy and comfort standard. Passivhaus buildings feature highly insulated and airtight façades and energy efficient ventilation systems.
Jonathan explained that many schools, particularly older schools, built to non-Passivhaus standards rely on having to open windows, even in winter, to provide fresh air which he said will lead to discomfort. He said: "people talk about natural ventilation which sounds lovely but if you call it what it actually is - random, uncontrolled ventilation - it doesn't sound so good."
In contrast he said schools designed to Passivhaus standards incorporate mechanical ventilation systems with heat recovery. He commented that although the term mechanical ventilation "does not sound attractive", if you describe it for what it is: "a constant supply of pre-warmed fresh air", it sounds much better. Jonathan said the advantage of mechanical ventilation in dealing with the aerosol spread of COVID was that it allowed schools to maximise the fresh air supply rate and extract rates to help dilute aerosols in a classroom.
For Passivhaus schools, Schüco manufacture a diverse range of façade, door and window systems, all of which are certified and approved for use on Passivhaus projects. Jonathan also mentioned the benefits of brise soleil as an efficient way to keep heat gain and glare out of a building. Again, Schüco manufacture a variety of sun shading systems compatible with Passivhaus certified window and façade systems.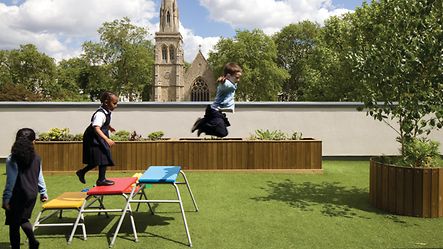 Register now..
Work material (e.g. tender specifications, BIM objects, CAD data, catalogues)
Note content
Direct contact to Schüco