Specifying for Passivhaus
What are the benefits of Passivhaus? And what do specifiers need to consider when choosing window, door and façade systems for Passivhaus schemes? Read on to find out.
With the government's net zero strategy, changes to building regulations and concern over rising energy prices, more attention is being paid to energy efficiency with building standards, such as Passivhaus, becoming more mainstream.
The low-energy construction standard developed by The Passivhaus Institute in Germany, requires doors and windows to have a U-value of 0.8W/m2K or less. That is lower than the 1.4 W/m2K specified for commercial newbuild projects in the 2021 amendments to Approved Document L.
Effective from June 2022, these changes already made it clear that glazing systems must do more as part of a whole structure to help meet future targets for efficient buildings.
Passivhaus goes further, placing extremely strict limits on the amount of heat that is allowed to escape from a building via the frames and glazing.
Why Passivhaus?
There are currently over 1500 Passivhaus buildings in the UK, with many more that have been built to the standard but not certified, and interest is rising.
Schüco Architectural Project Manager, Russell Wallbank, who handles many of the Passivhaus schemes, reported that he has experienced a notable rise in Passivhaus enquiries over the last two years.
The benefit of such stringent requirements is a significant reduction in the energy requirements for heating and cooling buildings. Minimal air leakage requirements, combined with low thermal transmittance aim to make buildings 'passive' in terms of energy consumption.
Passivhaus design is relevant for all sectors, including education and commercial, as buildings benefit from a guaranteed reduction in running costs for the life of the structure.
This is particularly important in the education sector where budgets are being squeezed, and for social housing to reduce bills for tenants on low incomes. A 10-year assessment of a Passivhaus scheme found that residents pay only £30 per quarter for their heating.
For offices and schools, CO2 can build up and cause drowsiness and affect concentration, but with the highly efficient mechanical ventilation systems necessitated by Passivhaus design, air is moved out to create a conducive learning and working environment all day long.
Existing buildings can also be retrofitted to meet Passivhaus standards. For example, replacing the windows of a typical family house built in the 1980s with Schüco AWS 90.SI +, a certified Passivhaus product, can result in up to a 21% reduction in energy use.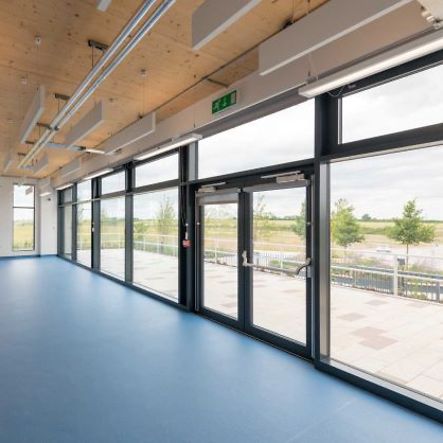 Choose a thermally efficient material for a fabric first approach
When specifying Passivhaus, timber systems may come to mind. Wood is a good insulator and performs well thermally; however, it is not as robust or durable as aluminium or steel.
Opting for aluminium or steel guarantees longevity and will require less maintenance over the product's lifetime. Russell comments: "Timber windows may need to be replaced around the 10-year mark, but aluminium systems can last much longer, up to 50 years in some cases."
We offer a full suite of Passivhaus products including aluminium curtain walling, windows and doors. Schüco Jansen also has a Passivhaus-certified steel façade system, VISS 50/60 HI, as well as the Janisol HI system which, configured as a fixed light, is the only Passivhaus-certified steel window available on the market.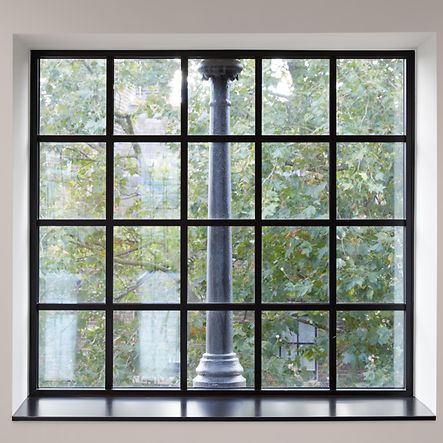 Engage early with suppliers for the best outcome
Specifying a Passivhaus project can be challenging. This is even more true when pursuing certification. Meeting such rigorous standards in practice is facilitated by good design at the outset. That's why "Schüco Architectural Project Managers like to get involved as early as possible to help with the design and advise on product selection," Russell adds.
Engaging with window and door suppliers is key in the early design stages to ensure the right products and systems are chosen for each scheme. Opting for suppliers that offer high quality, highly tested systems is essential.
We pride ourselves on our thorough system testing and offer extensive project-specific support for Passivhaus schemes. "It is particularly important to have easy access to system testing documentation to ensure the products you are considering are suitable for Passivhaus certification," Russell explains.
John Heaney, Senior Architectural Technologist at ECD Architects, who specialise in sustainable design, specified Schüco systems for Bedfordshire's first Passivhaus school because of "the proactive support we received at the design stage, and [Schüco] ensured we had the necessary technical information on airtightness, air permeability and U-values."
Passivhaus certification vs Passivhaus standard
The key difference is that Passivhaus certification guarantees that the performance gap between what is designed and what is built is minimal. It is usual that a finished building, and its performance, differs at least slightly from what was specified at the design stage. But to have a building certified by the Passivhaus Institute, it must pass rigorous testing.
The Passive House Trust recommends that at least two airtightness tests are incorporated into the build schedule with a final test determining if a structure will officially be recognised as Passivhaus. The standard is now recognised as an excellent design tool to ensure a high-quality build and Russell expects more and more clients to be pursuing certification in future. But certification is not always sought.
Many buildings are built to Passivhaus standard unofficially and still achieve extremely high thermal performance. Quarry House, for example, combines outstanding design with the desire for ultra-energy efficiency. It may not be a Passivhaus-certified home, but the energy required to keep Quarry House comfortable through the year does not exceed 15 kWh/m2. To put this into context, a standard Victorian house would use over 200 kWh/m2.
Register now..
Work material (e.g. tender specifications, BIM objects, CAD data, catalogues)
Note content
Direct contact to Schüco