Disused quarry provides material and ideal space for new Passivhaus
An exciting project has been completed in an unexpected place: the pit of a disused stone quarry. Nestled between a mature forest and open fields, the new home will be built to Passivhaus standard and will use materials local to the site: stone from the quarry and timber from the forest.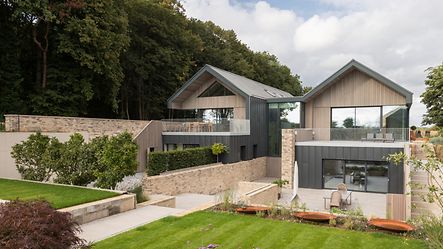 The house is partially below ground, so it's important to make as much use of natural light as possible. For this reason, the house also features large, specialised products from Schüco, engineered to Passivhaus standard, to keep the interiors bright without losing heat.
Inside, a central double-height atrium space is flanked by a series of private and semi-private spaces at two levels, each with their own view to the outside.
The project was granted permission under Paragraph 80 of the National Planning Policy Framework, which requires a proposal's design to be 'truly outstanding or innovative, reflecting the highest standards in architecture, and would help to raise standards of design more generally in rural areas.'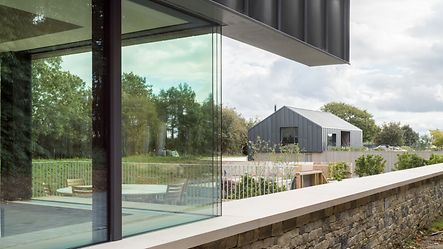 Giles Bruce, Director at A-Zero Architects
"Energy efficiency and thermal insulation are playing an increasingly important role in the design and construction of new building and renovation projects. We specified products from the Schüco SI (Super Insulation) or HI (High Insulation) ranges over other aluminium systems as they are able to handle the many complex conditions that this project required, whilst meeting the performance and aesthetic requirements."
The range of Schüco systems specified work together to create a home that is designed with the objective of setting a low-energy standard.
Hershika Kerai, Business Manager at Aumaxum Architectural Glazing, the fabricator for the project, commented: "To ensure that the large sliding doors that feature in this project were going to be as thermally efficient as they were stylish, ASE 80 HI from Schüco was the best option. The client wanted the doors to be extremely tall, however, architect had to ensure the doors were of a height that had been thermally tested. The client visited our showroom and was immediately sold upon seeing the door."
As the house is designed to Passivhaus standards, the energy required to keep it comfortable through the year does not exceed 15 kWh/m2. To put this into context, a standard Victorian house would use over 200 kWh/m2.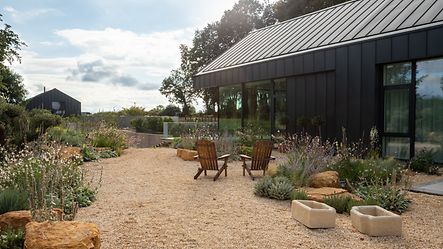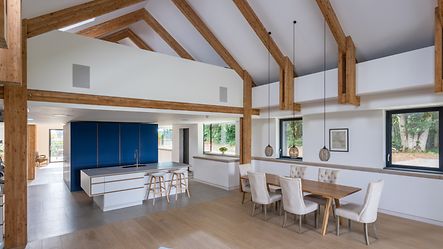 Giles explains: "This low space heating demand was achieved through high levels of insulation in the envelope, Cordex Filcor structural insulation below ground and a Pavatex wood wool insulation within the timber cassette construction, which forms the above-ground envelope. All junctions within the construction were simulated to eliminate thermal bridging. The Schüco systems minimise heat loss in winter and solar gains in summer. Infiltration is minimised using a Pro Clima Intello Plus Vapour Check Membrane, and fresh air is provided mechanically, with all heat recovered from out-going air."
A-Zero Architects is a RIBA chartered practice based in London. Founded in 2010, its work focusses on designing and procuring buildings in a way which does not have an adverse impact on the environment.
Aumaxum Architectural Glazing have over 20 years of experience in the Architectural Glazing Industry and are a Schüco Partner.
Find your Schüco partner
Schüco works with a network of partners, who are trained to manufacture and install Schüco systems. A Schüco partner will support you with your project, from tailored design advice to the manufacture and installation of your bespoke Schüco products.