Materials for contemporary architecture that endures
When it comes to construction, aluminium and steel are the perfect choice for high-quality windows, doors and façades. Both materials have their own unique qualities and both can add a sophisticated edge to any building, bringing creative ideas to life.
Aluminium...
... is widely used in construction and other industries, including automotive, aerospace and packaging. It is light and durable, as well as highly resistant to corrosion. Furthermore, it can be powder-coated or anodised, which provides a finish that lasts throughout its lifetime. In addition to a highly attractive finish, this also means that aluminium windows and doors are very low maintenance. This versatility makes it the perfect material for creative and contemporary architecture including windows, doors, sliding doors and façades.
A key feature of aluminium is that its strength can allow large glazed areas with relatively narrow frames, thereby creating very slim sightlines. At the same time, as a lightweight material, aluminium is easy to fabricate and also makes windows and doors very easy to operate once installed. Aluminium is therefore the perfect choice for sophisticated, durable windows, doors and façades, ensuring high quality while also protecting the environment.
Benefits
Virtually unlimited design and colour options
Narrow face widths for maximum transparency
Robust and durable constructions
Outstanding weathertightness
Highly resistant to corrosion
Thermally broken profiles provide insulation up to passive house level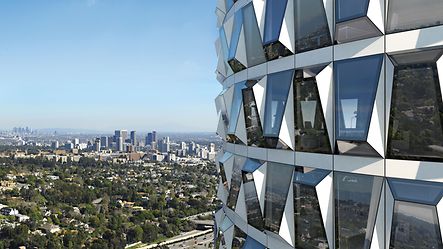 Sustainability
Aluminium is 100% recyclable and therefore a continuously reusable material. Old windows and doors can be fed back into a closed recycling loop. By separating out the materials, then shredding and melting down the valuable metal, brand new aluminium profiles can be made from old units. This "Cradle to Cradle" approach makes aluminium an ideal sustainable option.
Steel ...
... is most commonly used on commercial projects. It is an incredibly durable material that truly stands the test of time. Steel's inherent strength allows very large glass panels to be used together with the slimmest of frames for maximum transparency – an area in which it is unrivalled by any other building material.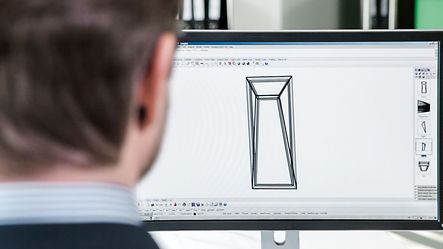 There is a strong demand for steel profiles for security and fire protection, as well as for renovation projects, particularly those involving listed buildings. Slimline, thermally broken steel profiles can be used to perfectly preserve the original, authentic character of a building while also meeting all of the high standards  in thermal insulation and sound reduction required for modern construction. Project-specific shapes such as round, oval arch and Gothic arch windows can be perfectly replicated – complete with surface textures that look just like the original.
Steel profiles are also used in private homes – especially when high structural properties are required for extraordinary and memorable structures. The result is high-quality, stunning architecture which is truly unique.
 
Benefits
Meets the highest standards for fire and smoke protection
Slimline profiles retain the original style of historical buildings
Exceptional durability
Outstanding structural integrity
Excellent thermal insulation and sound reduction
Maximum energy efficiency
Sustainability
Steel is rightfully seen as sustainable, being one of the most recycled materials on the planet. Steel has numerous ecological advantages, including low energy consumption during its manufacture, a lifespan that is unsurpassed in comparison to alternative materials, and a closed recycling loop. Steel's amazing metallurgical properties allow it to be continually reused, without any degradation in performance, making it a building material that lasts for generations.