Schüco sliding doors – For light, airy rooms which open out into nature.
Highly thermally insulated sliding doors made from aluminium create new spaces. Who wouldn't want to extend their office or living space at the turn of a handle? Non-insulated sliding doors from Schüco offer a wide range of new design concepts for use indoors. The system allows different constructions to be be combined seamlessly thanks to its design.
German-engineered and British-built, Schüco doors marry elegant style with effortless performance. Be it a sliding or bi-fold door, slender profiles and large-scale glazing create rooms that are flooded with light – whatever your style.
Schüco doors are also built to be durable, combining the strength needed to keep your home safe and warm with meticulous design that allows you to open and close them with the lightest touch.
To discover more, request a personal consultation or visit your nearest Schüco partner showroom.
Highlight: Schüco ASS 70 FD HD and ASS 80 FD.HI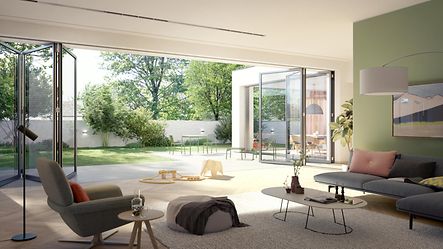 The Schüco ASS 70 FD bi-fold door system is a thermally insulated door, which offers the benefits of a wide choice of styles and a high level of transparency.  Different requirements can be met, for example, the option of a flush threshold profile provides an easy-access entrance. A turn / tilt  ventilation vent provides additional convenience in the folding vent on the outer frame side.
Opening types
Schüco sliding doors offer perfect functionality and the various opening options open up special design possibilities. The opening types on offer in the sliding and lift-and-slide doors depend on the system.