Schüco sliding doors and bifold doors – For light, airy rooms which open out into nature.
Highlight: New AS FD bi-fold door system
You have a beautiful home and garden.
You want to be able to enjoy the view from your living space, bathed in natural light.
Schüco has purposefully worked on improving the most successful of its products, building on already second-to-none engineering, to develop the ultimate bi-fold door.
Find out more about our bi-fold doors here 
My Sliding Door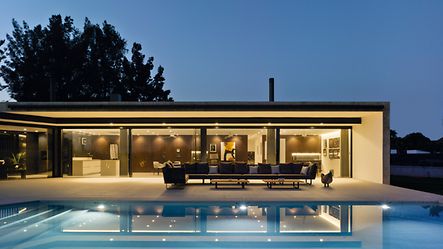 A door is just a door, isn't it? Not exactly. Anyone opting for a sliding door right now is making a good choice: sliding doors flood rooms with natural light and provide an almost barrier-free transition from inside to outside. Narrow profiles with no obtrusive door frames offer the best possible views to the outside. If you're looking for light and airy rooms, then you are going to love the large-scale glass areas and wide opening widths that only sliding doors can achieve. And while we are on the subject of space: the interior also benefits, as conventional pivoting door leaves that take up space in the room are a thing of the past. Modern sliding doors are also very energy-efficient, both in summer and winter, keeping the heat and the cold out.
Opening types
Schüco sliding doors offer perfect functionality and the various opening options open up special design possibilities. The opening types on offer in the sliding and lift-and-slide doors depend on the system.