Bedfordshire's first Passivhaus certified school built with Schüco systems
The new build expansion of Thornhill Primary school in Houghton Regis, Bedfordshire was conducted with sustainability at the forefront of its design.
Expanding the school from a 1-form to a 3-form entry, Central Bedfordshire Council wanted to create a healthy learning environment housed in an energy-efficient building.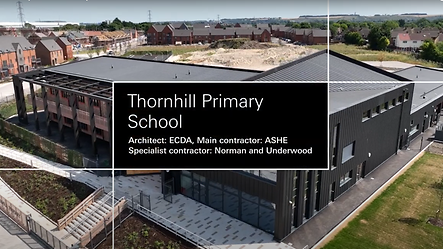 The school's construction was not initially conceived as a Passivhaus project, but once the council understood the benefits of building to the standard, it opted to pursue certification.
Passivhaus certification requires rigorous testing, but buildings benefit from a guaranteed reduction in running costs for the life of the structure as well as high levels of thermal comfort and air quality. For a school, this means creating an optimal working and learning environment for staff and students.
Main contractor ASHE, specialist contractor Norman and Underwood and ECD Architects worked closely on the school expansion. ECD Architects, which specialises in sustainable design, specified Schüco products for the build.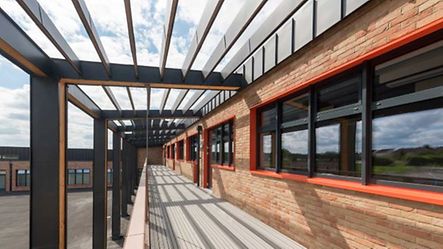 Multiple systems from the Schüco Super Insulated (SI) and fire-rated ranges were used.
John Heaney, Senior Architectural Technologist at ECD Architects, explained why they specified Schüco: "I knew Schüco as a market leader and they offered the Passivhaus certified products required for the Thornhill scheme. Highly insulated windows are integral to achieving Passivhaus standards and the AWS SI range from Schüco fit the bill."
Schüco AWS 90.SI windows are Passivhaus certified products and were key to the school achieving certification. Andrew Morris, Business Development Director at ASHE, explained: "The use of Passivhaus certified windows hugely benefited the spec. For a normal building, the target for air permeability is 5m3/(h.m2). Thornhill has achieved 0.69m3/(h.m2), which when converted to an air change rate equates to 0.42 AC/h, well below the Passivhaus requirement of 0.6 Ac/hr."
John continued: "Specifying for a Passivhaus project is a complex and involved process which requires a lot of engagement from suppliers. One of the key reasons we specified Schüco was the proactive support at the design stage we received
John Heaney, Senior Architectural Technologist at ECD Architects
"Schüco ensured we had the necessary technical information on airtightness, air permeability and U-values and their Architectural Project Manager, Russell Wallbank, provided us with multiple iterations of the scheme to ensure the specification would achieve certification."
Constructing a Passivhaus certified school presents a particular set of challenges beyond designing buildings to meet strict performance criteria. School structures must adhere to building regulations and their design must consider the various practical features required to create a functioning, accessible education facility. With such a complex project, support from suppliers is key.
Estimating Manager at Norman and Underwood, Edmund Gibbs explained: "The Thornhill Primary School project was high spec and had to meet security, ventilation, access, and fire protection requirements on top of being incredibly energy efficient.
"As the fabricator, we use Schüco software at the estimation phase, but due to the complexity of the project we referred to the Schüco project office who supported us to find solutions for the design."
Impressed with the service and level of support Schüco can offer, John from ECD architects would work with Schüco again. He said: "I would definitely use Schüco for future Passivhaus designs. The technical support Schüco provided through the process was immense and crucial to ensuring the project was to Passivhaus standard."
The Thornhill Primary School expansion was completed in Summer 2022 ready to open its doors to staff and students for the Autumn term.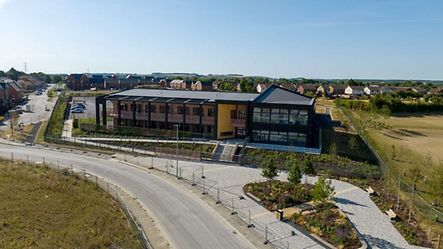 Register now..
Work material (e.g. tender specifications, BIM objects, CAD data, catalogues)
Note content
Direct contact to Schüco