Overall winner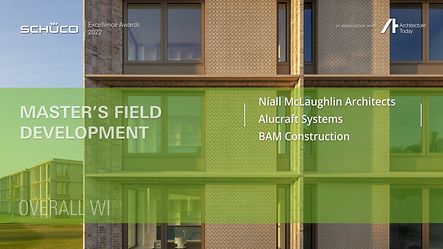 2022 Overall Winner
Designed by Níall McLaughlin Architects and carried out by Alucraft Systems, the Master's Field Development for Balliol College, University of Oxford, comprises 225 furnished ensuite study bedrooms arranged across eight new buildings and supported by ancillary facilities, as well as a new sports pavilion.
The buildings frame and animate outdoor gathering spaces, while privacy in the bedrooms is maintained via deeply recessed window bays. The bedrooms themselves are organised in clusters around social spaces that are accessed through glazed stairways linked to generous shared kitchens and common rooms.
Cross-laminated timber-frame construction was chosen to establish the accommodation buildings rapidly and minimise waste. The efficiencies of this method required advanced coordination and detailing of the fenestration package to make the buildings weathertight. Appointed early on, and working closely with the project team, specialist contractor Alucraft Systems helped to rationalise the window design and confirm the Schüco profiles to meet factory and delivery lead-in times.
Schüco ADS 80 FR 30 doors, together with Schüco AWS 70.HI and AWS 70 BS.HI windows incorporating bespoke aluminium spandrels, provide a range of fenestration supporting the natural ventilation strategy to all kitchens, corridors, and study bedrooms. Generous, 'oversized' fixed-light corner windows are held within precast bays, offset by bespoke trim details. Finished throughout in metallic PPC IGP-XalClassic-32, the Schüco profiles comprise concealed hinges, multipoint locking, and restrictors (where applicable) Integrated head trickle vents provide background ventilation. These are concealed internally and baffled within.
The use of mock-ups and samples facilitated sequencing trials and interface detailing early on in the construction process. Movement and tolerances were incorporated into the bracketry design of the windows and doors to accommodate the building's timber frame and laterally restrained precast façade. The sports pavilion is designed to optimise the spectator experience with a sweet chestnut structure framing views through Schüco ASE 67 PD sliding windows to the cricket pitches. The profiles are integrated into purpose-made rebates within the timber frame.
Environmental and social sustainability is at the core of the design philosophy. The project delivers naturally ventilated, well-lit interiors for occupants, incorporating simple user-friendly controls. Student welfare is augmented by richly planted landscapes, shared kitchens and centralised social spaces.
This project wowed the judges with its contextual sensitivity, technical prowess, build quality and beauty. They were also impressed by the highly considered and crisp façade detailing employed throughout the scheme.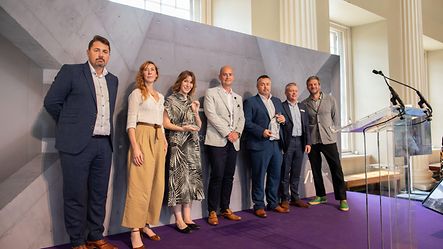 "The way that the windows are integrated into the deep, brick-faced
façade bays is expertly handled"

"This thoughtful, high-quality project works at many different scales, from its collegiate context to the beautiful detailing of the façades"

"The project is a beautiful essay in how to build in a sensitive context. The highly refined façades use Schüco windows to striking effect"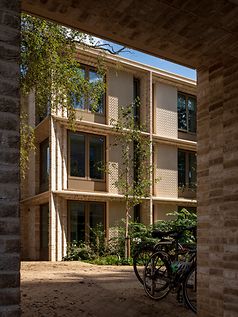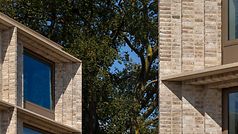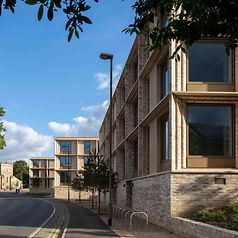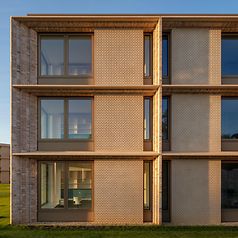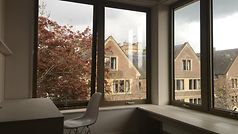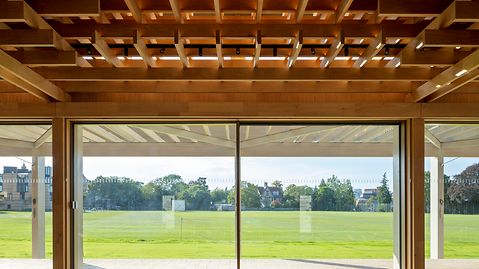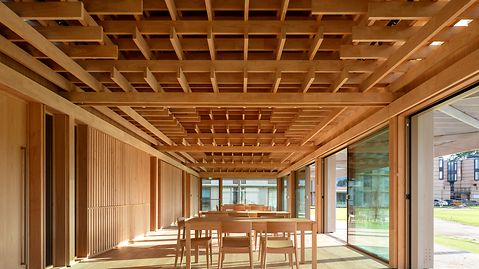 Register now..
Work material (e.g. tender specifications, BIM objects, CAD data, catalogues)
Note content
Direct contact to Schüco