Office complex in the heart of Windsor modernised with Schüco systems
The extension and refurbishment of these offices needed high-quality systems befitting their prestigious location adjacent to Windsor Castle and the listed Eton Central Station.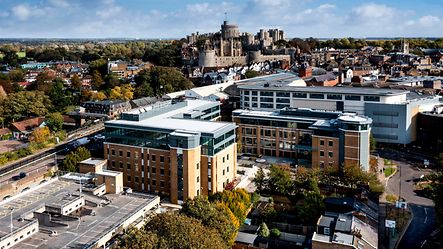 The Windsor Dials complex is made up of two buildings, Windsor One and Two. Building one had a double-height entrance installed and a two-storey glazed extension added to the roof. A double-height entrance was also created in building two with a single storey extension to the roof. The glazed extensions provide the offices with views of Windsor Castle and the surrounding area.
Hale Architects designed the project with Corley Woolley as the main contractor. Anglian Architectural fabricated and installed the building envelope. It features Schüco FSW 60 and FWS 50 S curtain walling, providing the contemporary aesthetic the client requested. The project also used Schüco door systems, including the ADS 65 HD and ASE 60 lift-and-slide doors.
Hale Architects specified Schüco for this project. Director Paul Hartley explains why: "We believe Schüco curtain walling systems are the most technically robust and best engineered systems available to us on the market. We also consider them to be the most comprehensively tested systems. This was crucial for the Windsor project. When you are dealing with a building that has been this heavily refurbished, you need a glazing system that is proven and reliable. Lots of bespoke measurements were involved and Schüco curtain walling systems proved to be perfect in their design and manufacture for what we were looking to achieve."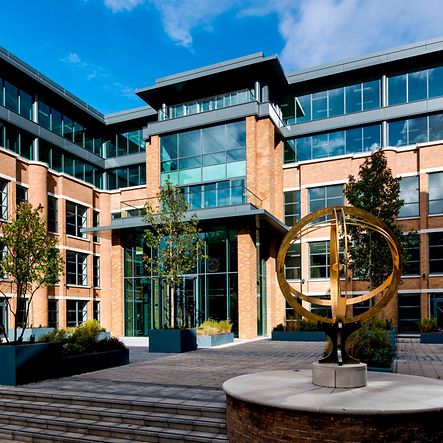 Trevor Kirby, Managing Director of Anglian Architectural
 "For this project, quality was key. Schüco provide high-performing, robust systems with enhanced U-values." He continues, "the hardware on Schüco doors and windows is second to none", helping to give Windsor One and Two a high-quality feel.  
FWS 50 S was used on the offices' double-height main entrance for a high-end, industrial finish. The design specified very slender profiles for the 7-metre-high curtain walling which Schüco was able to achieve.
Another of the project's technical challenges that Schüco systems were able to accommodate was the curved cladding panels, which needed to be integrated into the building's curtain walling.
Paul remarks: "Working with two existing buildings required us to rely on site measurements and fabrication details. Schüco provided technical and design advice throughout the project, with all the detailing being run through Schüco design services. We wouldn't hesitate to use Schüco again."  
The Windsor Dials refurbishment took approximately 13 months and was completed at the end of 2021. Windsor One is now the administrative headquarters for the InterContinental Hotels Group, and three floors of Windsor Two are also now occupied.
Trevor concludes: "We're proud to be a Schüco partner. Schüco is a premier system, you just don't get problems with it. The Windsor Dials project was very successful and, since its completion, we have collaborated with the client again."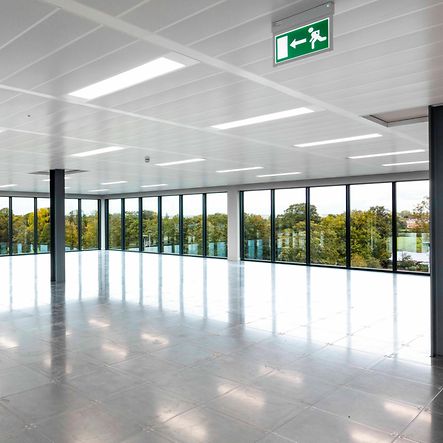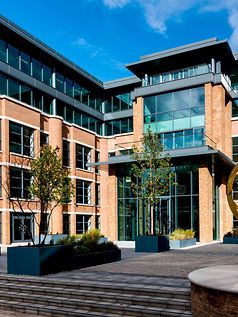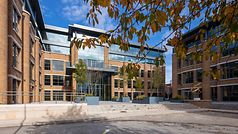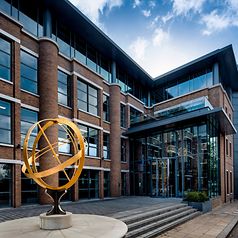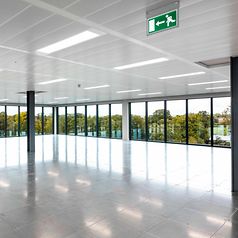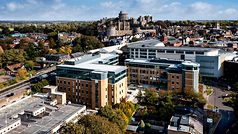 Register now..
Work material (e.g. tender specifications, BIM objects, CAD data, catalogues)
Note content
Direct contact to Schüco