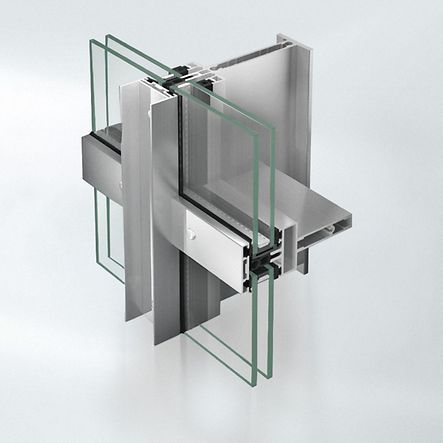 High-performance mullion/transom façade for a variety of solutions in a steel look
The Schüco FWS 50 SI (Steel) façade system offers a high degree of flexibility and attractive design options for highly thermally insulated façades and skylight areas in a narrow steel look, including optimised fabrication and installation processes. Thanks to a broad system range, solutions for the most varied requirements and applications can be implemented.
A transparent spandrel safety barrier integrated in the profile blends seamlessly and elegantly into the external steel façade appearance. The required safety barrier loading for floor-to-ceiling opening units and low spandrel heights can be implemented with consistent profile face widths and a continuous profile.
Load-bearing I-shaped and T-shaped load-bearing profiles as well as steel U-shaped pressure plates with visible screw fixing allow slimline mullion/transom constructions to be designed with an elegant, high-tech appearance.
System-optimised components guarantee the simple and reliable integration of electrical components, e.g. for automated Schüco door or sun shading installations.
Planning benefit
Mullion/transom façade system with a steel appearance
Especially slim façade and skylight constructions thanks to I-shaped and T-shaped load-bearing profiles
Steel U-shaped pressure plates with visible screw fixings emphasise the high-tech appearance of the system
Transom and mullion profiles are available in graduated dimensions to meet varying structural requirements
Register now..
Work material (e.g. tender specifications, BIM objects, CAD data, catalogues)
Note content
Direct contact to Schüco