Schüco Jansen Unlatched, non-rebating, single acting fire doors
Fire and smoke remain one of the most potent hazards facing any building. Schüco Jansen has responded by introducing a range of unlatched steel fire doors, complete with associated screens and partition walls that provides a comprehensive solution.  Fully tested and approved these stylish fire products deliver the looks and performance that specifiers have been demanding.
Offering outstanding performance with contemporary looks
Schüco Jansen has introduced a comprehensive range of unlatched, non-rebated, single-acting steel fire doors which includes screens and partition walls. They offer a solution for every application, but are are particularly suitable for hospitals, hotels, schools and public space applications where heavy duty use is the norm but no locking is required. Special components are activated in the event of a fire causing the door to remain closed and provide a barrier to the flames.
 
All have a sleek modern look with slender profiles and slim sightlines and all deliver a level of performance that is fully tested and approved. The large glazed central area – a feature that is common across all door types – allows maximum light transmission and helps to make the new doors as attractive to look at as they are effective in use.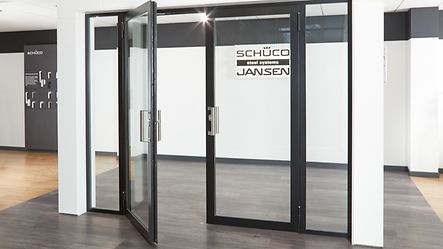 The three systems in the range are Economy 60 in 30-minute [E30] and 60-minute [E60] versions, Janisol 2 EI30 and Janisol C4 EI60. All the systems offer Sa smoke protection and are fully assessed to EN 1634 for both fire and smoke protection.
The Economy 60 door is a 60 mm system that is available with either 30-minute or 60-minute integrity-only protection against fire. Flush single and double-leaved doors, with optional side and top lights, also make it ideal for internal fire-rated partition walls.

Both the Janisol door systems are thermally broken to ensure an excellent level of all-round insulation, an important consideration when sustainability and whole life costs are mandated as factors in the brief. Their design enables them to deliver protection against fire and smoke for 30 minutes (Janisol 2 EI30) and 60 minutes (Janisol C4 EI60). Janisol 2 is designed for single and double doors and partitions. Janisol 2 and Janisol C4 are elegant 60 mm and 70 mm deep systems perfectly suited for fire and smoke doors with fixed lights. They have a contemporary, light-weight appearance and double rebate seals. An intelligent fire-retardant filling gives 60 minutes' integrity and insulation protection.

In addition, both the Janisol 2 and the Janisol C4 EI60 system offer concealed closers to provide a clean design line. The option of concealed hinges for Janisol C4 EI60 provides architects with the ultimate in visual aesthetics as well as performance in use. Where vision or light is not wanted the doors are available overclad with 2 mm steel sheet. Designed to integrate perfectly with Schüco Jansen glazed screens, these Schüco Jansen doors have hinges that have been tested through a million cycles, making them ideal for high-traffic areas in schools, hospitals, offices and public buildings.

A comprehensive collection of fittings and accessories – including different glazing bead variants, a variety of hinge types and an individual choice of face-fixed door handles – allow all three systems to be customised to perfectly complement any location.
Register now..
Work material (e.g. tender specifications, BIM objects, CAD data, catalogues)
Note content
Direct contact to Schüco