An abstract design approach to inspire creativity
The Barbara Hepworth building is home to the University of Huddersfield's School of Art, Design and Architecture. Experimental in its design and function it was designed to inspire creativity by bringing together students and staff from different creative courses.
The abstract design approach of local artist, Barbara Hepworth, one of the most prominent figures of 20th century design is reflected in the architecture. An example is seen in the building's unique façade constructed using Schüco systems. It features a laser-cut veil inspired by the textiles and the history of the neighbouring mills and given a contemporary and abstract twist. Each aluminium panel was individually designed by architects, AHR. In addition to achieving their practical purpose of helping to provide solar shading, the panels also reference the use of geometry and abstractionism by Barbara Hepworth.  A key challenge of the design was supporting these large feature solar shading panels, in particular the seven metre spans on the façade above the entrance.
The façade was designed and supplied using Schüco FWS 60 curtain walling. Schüco created a bespoke FWS 60 system with brackets designed to tolerate the additional weight and movement of the laser cut panels. Another bespoke element of the Schüco design incorporated oversized 2000 mm high AWS 114 concealed vents, with automatic actuators where windows were above head height to allow natural ventilation into the building. The building's entrance features Schüco ADS 65 HD double doors which open into a spacious atrium with views throughout the space culminating in an 18 metre cantilever over the neighbouring canal.
Schüco systems fulfil all the fundamental principles of sustainable product development which made the company a natural fit for this building which was designed to achieve BREEAM Excellent with an EPC rating of A.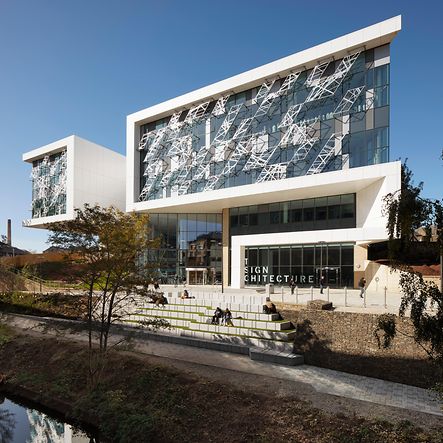 Robert Hopkins, Regional Director and Project Lead at AHR
"We chose to work with Schüco on this ambitious project for its specialist knowledge and experience in designing bespoke systems. 
"The high quality Schüco systems incorporated in the design were fundamental to bringing our vision of the building's façade to life. The building's transparency gives passers-by an intriguing glimpse of the creative processes and advanced technologies at work within."
The building's striking design incorporating Schüco systems and products has won awards at the LABC West Yorkshire Building Excellence Awards 2020, Northern Design Awards 2019 and Construction Excellence National Awards 2019. The building was also selected in outstanding shortlists for the RIBA Yorkshire Awards 2020 and Education Estates Project of the Year Colleges & Universities 2020.
The Barbara Hepworth building advances how design education is delivered. It nurtures a new and inspired generation of designers within one flexible hub that meets the University's evolving needs and significantly supports the region. It is now a landmark in Huddersfield town centre inspiring the next generation of architects honing their craft within its walls.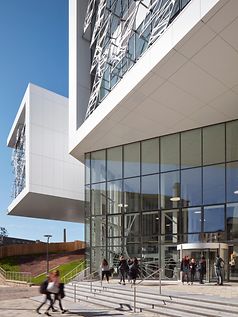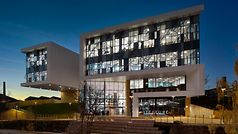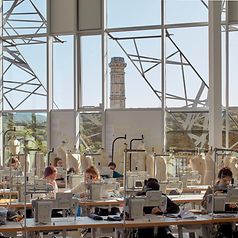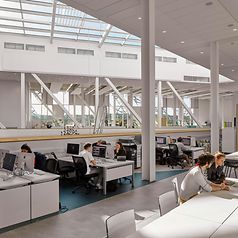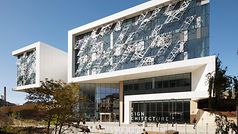 Register now..
Work material (e.g. tender specifications, BIM objects, CAD data, catalogues)
Note content
Direct contact to Schüco