Cultural Building winner
Winner of the Cultural Building Award
Forming part of Sunderland's Cultural Quarter, the Fire Station Auditorium is a three-storey music venue designed by Flanagan Lawrence and carried out by Entec Design. The highly flexible timber hall can accommodate audiences of between 500 and 800 people using a range of different internal layouts. It is also spatially and acoustically designed to suit a wide range of performances, from amplified and acoustic music to drama, dance and comedy.
The auditorium and adjacent Edwardian fire station are organised around a generous public square. Clad with Schüco FWS 50 curtain walling, the double-height auditorium foyer is conceived as an extension of the fire station's ground-floor public space. Solar shading is provided at first floor level by a terracotta brise soleil, designed to match the colour of the fire station's red brickwork. The brise soleil itself is supported by brackets that are integrated into the curtain walling system. Views through the terracotta to the interior of the foyer reveal the brick auditorium within.
The foyer is naturally ventilated, with air introduced through the façade and doors before being extracted at high level through opening Schüco AWS 57 RO rooflight vents located adjacent to the auditorium. Additional daylighting is provided by a
Schüco FWS 50 rooflight.
The principal design challenges centred around the constrained site, tight budget (£3,400 per square-metre), and rapid design programme. Adopting a fabric-first approach, the building makes use of thermal mass for temperature control, high-performance
glazing and solar shading, as well as good levels of airtightness and insulation.
The Schüco FWS 50 curtain walling used on the south façade provides a U-value of 1.6 W/m2 K and a G value of 0.6. Predicted carbon emissions for the building are 36.0 kg.CO2/m2 per annum, which is a 9.5 per cent improvement over Part L
(2013) requirements, and an EPC B rating.
The judges complimented the project on its compositional strength, unfussy detailing, and skilful execution. They also felt
that the curtain walling and brise soleil elements, which form the main visual focus externally, were particularly well resolved.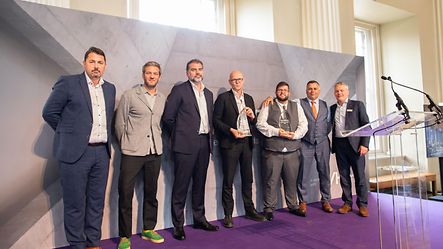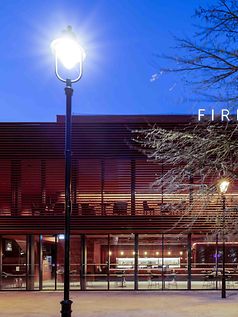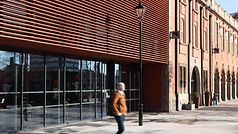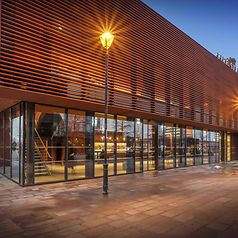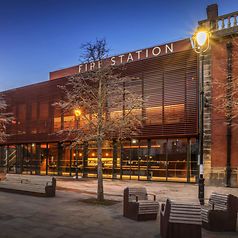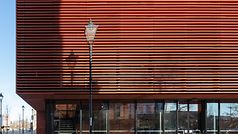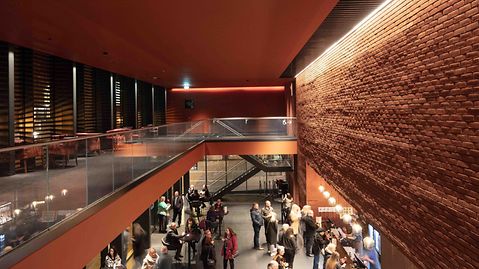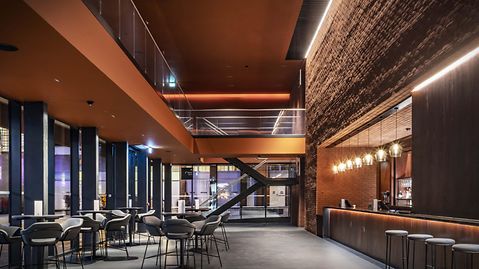 Register now..
Work material (e.g. tender specifications, BIM objects, CAD data, catalogues)
Note content
Direct contact to Schüco