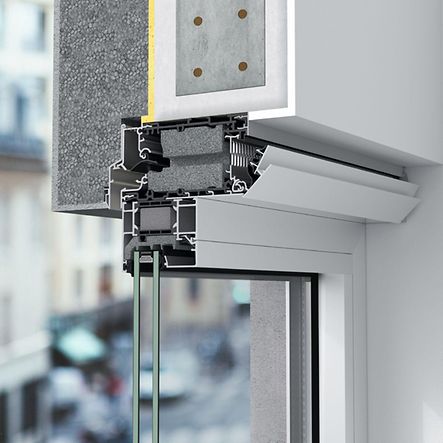 Ventilation system integrated into the window with a high level of sound reduction for a healthy indoor climate
In modern building design, the focus is on creating optimum working and living environments. To achieve this, a demand-driven supply of fresh air for the long-term protection of the building fabric is just as important as good acoustics for a comfortable indoor space.
Regulated air exchange with simultaneous sound reduction is not guaranteed in many buildings and facilities: open windows may let in fresh air, but also disruptive noise from outside.
To tackle this, the decentralised Schüco VentoFrame Asonic ventilation system with nine different levels offers tailored solutions with excellent sound reduction. The window ventilator enables the fully automatic circulation of air in buildings without creating draughts or allowing disruptive noise in through open windows.
Planning benefit
A high level of system flexibility due to nine device versions: optimum adaptation to the project simplifies planning and increases cost-effectiveness
A discreet design and a wide range of coating options ensure complete design freedom
Planning support from Schüco: help with product selection creates planning reliability and reduces the amount of work required for planning
Cost-effective ventilation for the entire residential unit
Register now..
Work material (e.g. tender specifications, BIM objects, CAD data, catalogues)
Note content
Direct contact to Schüco