Bookmark product
Schüco Sun Shading System ALB, Rectangular louvre blade, passive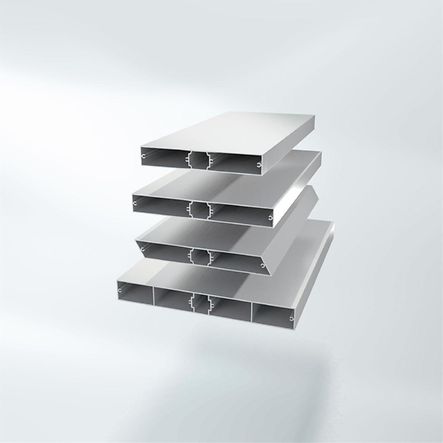 Rigid rectangular large louvre blades for attractive façade designs
The design of the Schüco ALB (Aluminium Louvre Blades) sun shading system with passive rectangular louvre blades offers impressive benefits: from maximum penetration of natural light and increased user comfort through to reduced thermal loading.
The rigid louvre blades can be arranged horizontally and vertically in front of façades and windows, and ensure highly effective shading at any time of the day or year.
Rectangular louvre blades in various widths as well as parallelogram louvre blades open up a wealth of options for individual façade design.
The wide range of louvre blade and cantilever brackets allows the louvre blades to be easily attached to Schüco window and façade constructions via the system interfaces in line with requirements.
In addition to the flexible range of applications, the high-quality sun shading system also has a high degree of security and quality in terms of planning, fabrication and installation.
Planning benefit
Use of different louvre blade geometries in terms of shape, colour and arrangement offers a large amount of architectural design freedom
The system with rigid large louvre blades has a number of flexible uses and can be arranged horizontally or vertically in front of Schüco façades and windows
System solution provides a high degree of planning reliability
High-quality, attractive sun shading solution for an individual façade design
Sun shading unaffected by wind
Highly effective shading at all times of the day and throughout the year
Register now..
Work material (e.g. tender specifications, BIM objects, CAD data, catalogues)
Note content
Direct contact to Schüco