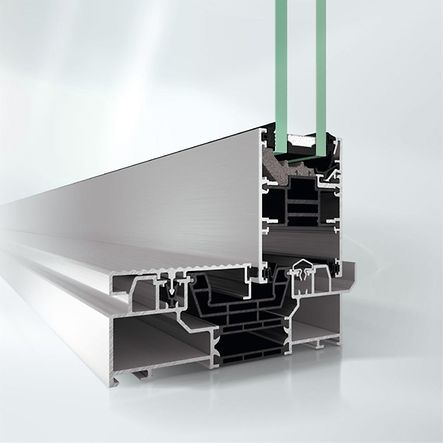 Sliding system with innovative profile-integrated drive and control units
With 12 different opening options, the Schüco ASE 60 TipTronic sliding system provides unique design freedom when planning automatically operated sliding systems. The modular and scalable profile system retains its high-quality design even when open thanks to the concealed fittings components.
The aluminium profiles in combination with the specially developed drive and control technology permit large-format constructions for transparent living spaces flooded with light, with vent weights up to 600 kg and vents movable by up to 18 m. Integrated sensors guarantee reliable operation.
Different operating options including various switches, the Schüco app or a connection to the house automation system can be selected for the highest degree of individual user comfort.
Further benefits of the automated sliding system are that signals and electricity are transferred without cable link connectors, as the integrated main control unit and the commissioning assistant ensure quick fabrication and installation, as well as easy access during servicing and maintenance.
Planning benefit
Profile-integrated drive and control components serve as the basis for innovative system technology
12 different opening types: considerable design freedom in the system
Vents can travel up to 18 m (dependent on opening type)
High-quality control unit with visual status display: for comfortably operating the system directly at the vent
Wide variety of control options includes vent-mounted operating switches, wall-mounted switches, the Schüco app or via connection to the home automation system
Register now..
Work material (e.g. tender specifications, BIM objects, CAD data, catalogues)
Note content
Direct contact to Schüco