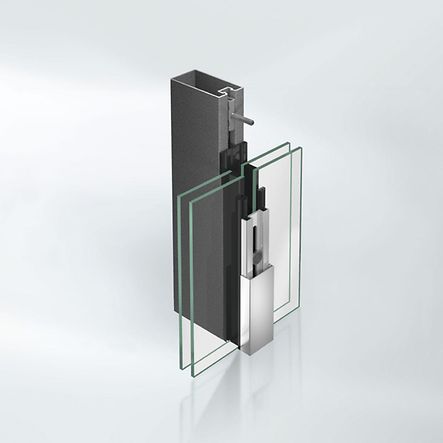 Thermally insulated mullion/transom system made from steel for large-scale vertical façades
Using the VISS TV (Trockenverglasung = dry glazing) steel system based on a dry glazing method, architecturally impressive mullion/transom constructions can be created for large-scale vertical façades.
With narrow profile face widths and different basic depths, the room-side load-bearing structure of the façade units can be designed in a variety of ways and with good light penetration.
With aluminium cover cap profiles in a range of depths and contours, an architectural statement can also be made with respect to the outer covering of the load-bearing structure. Cover cap profiles in stainless quality complete the wide range of design options for the façade.
With slim face widths, the system ensures maximum light penetration. The intersections of the skylight construction and the vertical façade are achieved with visual elegance.
Planning benefit
Narrow face widths of 50 and 60 mm
Optimised statics due to high-strength profiles
Variety of options for façade design with wide range of aluminium cover caps
Highly thermally insulated
CE-compliant; also suitable for safety barrier loading on request
Tested to British CWCT (Centre for Window and Cladding Technology) standards
Register now..
Work material (e.g. tender specifications, BIM objects, CAD data, catalogues)
Note content
Direct contact to Schüco