E-mobility rethought. With the e.GO Life city car
If there is currently a major focal point in discussions about the German car industry, then it is probably the issue of diesel. Which is a shame. For a highly-promising electric car made in Germany called the e.GO Life is poised for launch. The vehicle's range is modest, but the e.GO Life was deliberately designed to be a cost-effective city car. The creative visionary behind it is the entrepreneur Günther Schuh, who co-developed the »StreetScooter« electric van acquired by Deutsche Post in 2014.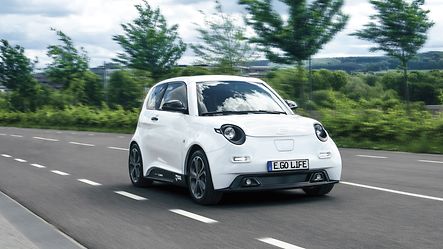 The German car industry currently faces crucial decisions after years of being spoiled by success. It must deal with the consequences of the ongoing diesel crisis, while simultaneously investing billions in new technology without knowing its future direction. The only thing certain is that future mobility will and must be more environmentally friendly. Whether electric propulsion, fuel cells or hybrid concepts will reign supreme remains unclear. Furthermore, we must ask ourselves what role autonomous vehicles will play in this era of profound change. And going even further, will owning a vehicle even remain important? Or, will people ultimately seek mobility through sharing platforms or turn increasingly to buses and trains?
In the midst of this confusing state of affairs, the American company Tesla in particular has made a name for itself in recent years. The company is committed to using efficient batteries and e­actuators in the manufacturing of its vehicles. In doing so, they combine green credentials with the highest levels of driving comfort and ranges of up to 600 kilometres. Meanwhile, other models such as the Jaguar I­Pace, Mercedes ECQ and Audi e­tron have followed a similar strategy. One might think that all sounds wonderful. However, does it really make sense to place the issue of range at the forefront of discussion about the future development of electric vehicles when according to a study undertaken by the Massachusetts Institute of Technology in 2016, only one in eight car journeys is actually longer than 150 kilometres? Add to this that long ranges go hand­in­hand with significantly higher acquisition costs, meaning that for the foreseeable future, the highly­promising topic of e­mobility is only accessible for top­earners.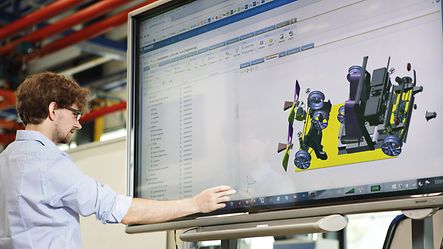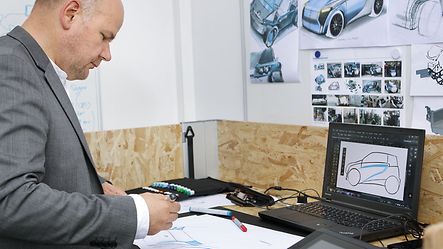 That is why Günther Schuh, Professor and Chair of Production Systems Technology at the RWTH Aachen University and Director of e.GO Mobile AG founded in 2015, intends to go down a different path. »As much as I hold Tesla in high esteem, it is unnecessary from an environmental and cost­effective point of view to laden electric vehicles with a tonne of batteries to achieve range and speed. Realistically, this can only be achieved through fuel cells.« As an alternative, this go­getting pioneer developed the e.GO Life electric car. With a range of 104 kilometres and a top speed of 116 km/h (for the basic model), the car has been primarily designed for journeys in the city. High speed trips down the autobahn in this vehicle are out of the question. However, that is why the e.GO Life is available with prices starting from just €15,900. As a result, it hopes to appeal to customer bases previously untargeted by the car industry: nurses or craftspeople that want to use it to drive to work in the morning, parents that want to take their children to school and then do a large shop and perhaps flexible top­earners that want an environmentally friendly second car for trips in the city.
Currently, the e.GO Life is just a prototype. However, the factory in Aachen has just been completed and the company hopes 10,000 vehicles will roll off the production line annually starting from spring 2019. »As of 2020, that figure ought to be as many as 20,000 vehicles«, Schuh says looking to the future optimistically. That sounds hopeful. However, the 59­year old entrepreneur has already proven he can do more than just talk when it comes to manufacturing electric vehicles. When he founded StreetScooter GmbH, he was mocked by many in the industry as outlandish. Quite unfairly, as it emerged. For after selling thousands of vehicles, Deutsche Post was willing to snap up the successful start­up for a substantial sum in 2014.
Günther Schuh is now going a step further with the e.GO Life. While established manufacturers in Wolfsburg, Rüsselsheim and elsewhere are still thinking conservatively, the Aachen­based entrepreneur is showing how, with a great deal of courage and inventiveness, a German manufacturer can also design and produce an affordable electric vehicle for private users that is sustainable and environmentally friendly. It sounds almost idealistic, but has been made possible because e.GO Mobile AG has been able to fall back on the expertise of Günther Schuh's self­founded technology network at RWTH Aachen Campus when developing its vehicles. Furthermore, the e.GO Life moves away from the car industry's accepted conventions, for instance, by eliminating the need for a self­supporting body. Instead, the structure of the car is now a centrally positioned frame made of highly resilient aluminium profiles. These are crash­resistant and reminiscent of those used in classics and racing cars. The vehicle's outer shell also defies convention in a similar fashion to the Trabbi in its day. It is made entirely out of thermoplastic, which is malleable when exposed to heat and delivered in the desired body colour, which renders a paint shop unnecessary.
The result of this unconventional approach is an electric car that surprisingly has a clear win in terms of cost over the competition offered by the established manufacturers. It thereby offers an approach to electromobility with huge potential to drive the concept forward and make it affordable for a wider group of buyers. This is good news for the environment and German manufacturing in equal measure.
Words: Robert Uhde
Photos: e.GO Mobile AG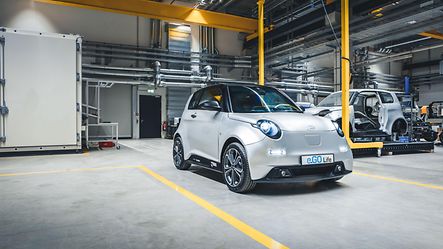 Register now..
Work material (e.g. tender specifications, BIM objects, CAD data, catalogues)
Note content
Direct contact to Schüco