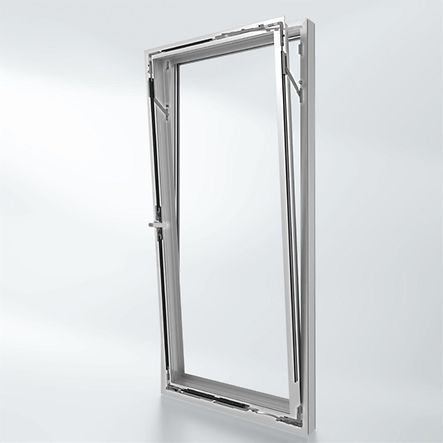 RC 2 burglar resistance for windows in tilt position too
Windows with resistance class RC 2 offer important basic protection against attempted break-ins with various tools. Previously, the tested resistance classes referred to closed windows.
Our new solution for added security is the Schüco SimplySmart OpenSecure fittings extension for aluminium tilt-before-turn windows. It ensures burglar resistance to resistance class RC2 in both the closed position and the tilt position. The large standard tilt opening width of up to 175 mm means that there are no restrictions in the ventilation cross section.
The tilt-before-turn operation allows the window to be switched between the closed and tilted position while it is locked. The key is only required to open the entire vent.
The SimplySmart OpenSecure is an enhanced fitting, which means it can be integrated into all standard and block systems, offering a high level of planning flexibility.
System is suitable for all residential and commercial projects. With SimplySmart OpenSecure, you can ventilate window units on the ground floor or in easily accessible areas (e.g. on a balcony) and still feel secure.
Fabrication benefits
Tried-and-tested SimplySmart features for fittings installation
Five new components added, e.g. the securing arm
No additional tools required
Can be integrated in and combined with all standard Schüco systems
Less additional fabrication work thanks to special features