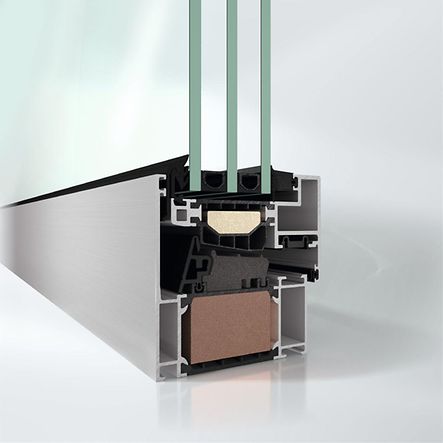 Schüco AWS optimized block window system: a high level of transparency and narrow face widths to passive house standard
The highly thermally insulated Schüco AWS 90 BS.SI+ optimized (Super Insulated) window system for the 90 mm basic depth is part of the Schüco AWS system platform and enables the highest energy efficiency, architectural and structural requirements to be met to passive house level through its future-oriented, optimised U values and elegant design.
Thanks to newly developed thermal insulation technology, our optimised systems achieve a high level of energy efficiency. This significantly improves the thermal performance values in comparison to the AWS standard system.
AWS 90 BS.SI+ optimized is a comprehensive, high-performance and sophisticated vent and frame system with numerous solutions for an energy-efficient and sustainable building envelope.
Fabrication benefits
More applications thanks to improved U values through new, optimised insulating bars, a thermally insulated centre gasket and optimised glazing rebate insulation.
Schüco AvanTec SimplySmart fitting ensures efficient fabrication: flexible, simple and intuitive
Vent parts are self-positioning and installed without tools and with no locking bar recess in the vent
Simplified and efficient locking bar preparation
Symmetrical cavity-fitted gearbox can be used on the right and left-hand side; simplified cutting of the locking bar and reduced storage requirements
Rebate gasket optimised for fabrication with optional corner piece
Don't have an user account yet?
Many benefits as a registered user:
Work material (e.g. tender specifications, CAD data, catalogues)
Software & Tools
Note content
Direct contact to Schüco