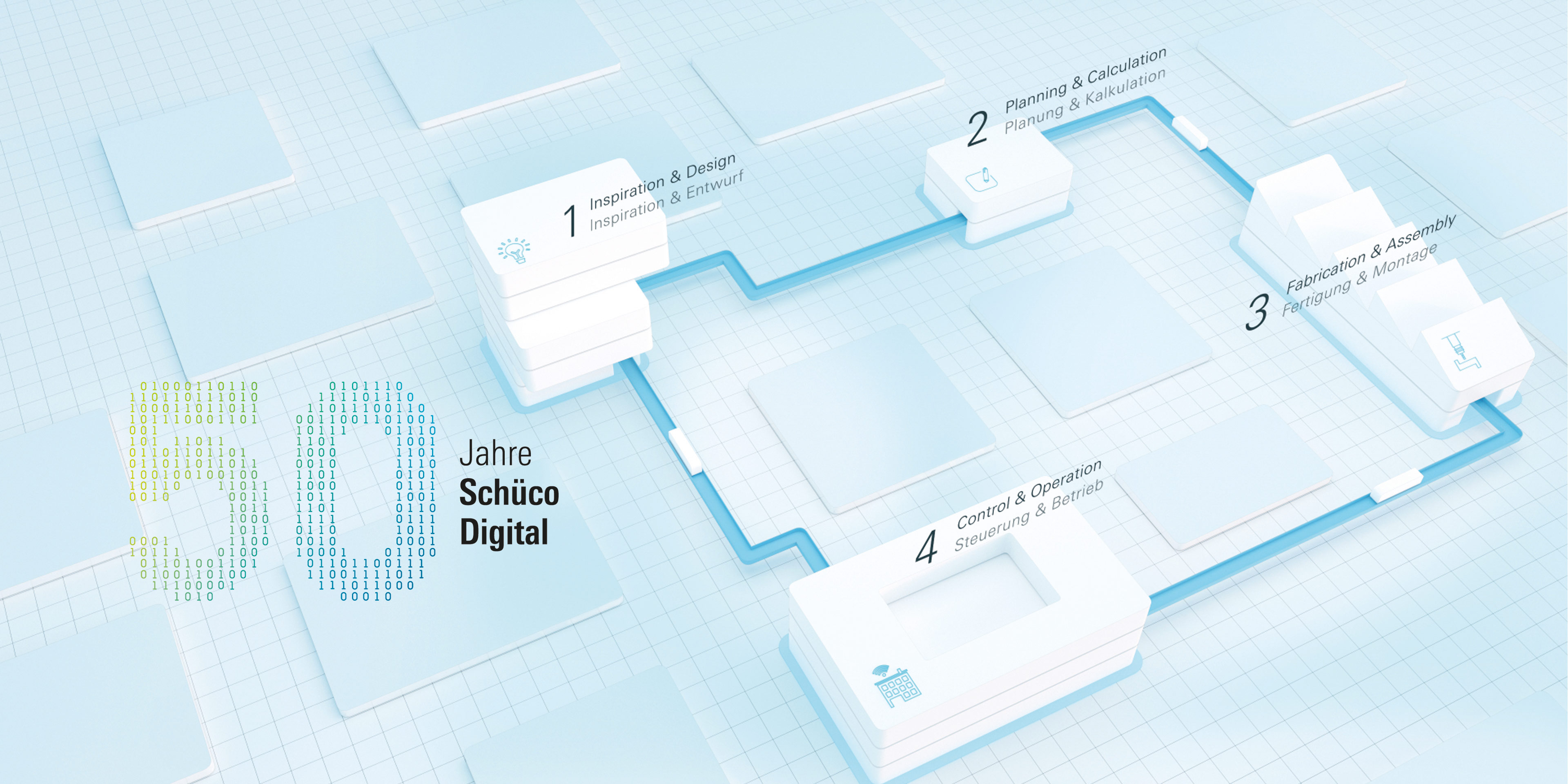 Driving forward digitalisation in the construction industry
The future of construction is digital. Digitalisation enables efficiency in the construction industry to be improved beyond the complex value chain and despite an increasing shortage of skilled workers. Schüco recognised the potential of digitalisation early on. Schüco has been shaping the digital transformation of the construction industry for 50 years. Today, Schüco offers by far the largest portfolio of digital solutions in the industry, all from a single source. This ensures holistic networking and greater cost-effectiveness, reliability and convenience in the day-to-day work of planners and customers.
With its digital solutions and digital start-ups, Schüco sees no end in sight for digitalisation. All this had small beginnings, when the first computer program for partners was launched 50 years ago.

"Digital progress has been part of our DNA from the start. Our mission for 50 years has been to take full advantage of the opportunities presented by digitalisation, both for ourselves and our partners. Blazing a trail in the construction industry is like running a marathon. It requires perseverance and stamina. And we are and will remain at the forefront." Christian Glatte, Managing Director of Schüco Digital GmbH
"Our goal is to network the construction value creation processes in order to create continuous information and data flows. Because that's the only way to save time and money on the bottom line." Stefan Kobes, Managing Director of Schüco Digital GmbH
Schüco goes digital
In the early 1970s, customers reach the limits of manual order processing, for example in the creation of parts lists. According to the motto "If the customers are doing well, Schüco is doing well", Schüco developed an all-round carefree package. It included software and hardware, consulting, training and support. in 1972, Schüco International KG then founded a wholly owned subsidiary, Schüco Service GmbH. As its first digital service, it offered partners a programme for EAV - Electronic Work Scheduling with the matching Olivetti P602 super-micro computer. This made calculating the glass and profile cuts and the costing quicker and safer. In 1978, Schüco introduced a rental model that is still in use today, in order to make the latest digital solutions available to more tradesmen and to continually facilitate preliminary costing and work preparation.
Digital stage victories
In the 1980s and 1990s, the construction industry was already using powerful computer-aided design (CAD) solutions. Schüco continues to support its partners in many phases of construction and offers services, for example with a 3D CAD solution for metal fabricators and façade planners. Production also benefits from the new technical possibilities. And so, in 1991, some processors were amazed at the first CNC machining centre and the direct control from the parts list software. In the following years, digitisation continued to advance with giant steps.
Install new possibilities
Today, with Schüco Digital, Schüco Fabrication, Virtual Construction Lab and the two corporate start-ups Plan.one and PlanToBuild, the Partner Development division, together with the Smart Building business unit, provides digital solutions for greater efficiency and convenience for the entire product life cycle. "Ideally, all steps in the construction process are networked and information is used reciprocally, so that the bottom line is that time and money are saved," says Stefan Kobes as one of the Managing Directors of Schüco Digital GmbH responsible for Digital Business Development since February 2022. State-of-the-art technologies such as virtual reality/augmented reality, machine learning or networked solutions in the cloud offer great opportunities for the future.
Don't have an user account yet?
Many benefits as a registered user:
Work material (e.g. tender specifications, CAD data, catalogues)
Software & Tools
Note content
Direct contact to Schüco