Schüco AF UDC 80 - new unitised system offering architects a complete solution
The new UDC 80 façade, launched on the UK market in 2020, combines excellent energy efficiency with huge design flexibility in a unitised system for both high rise residential and commercial buildings.
Scalable, tested system components form the basis for a wide variety of standardised applications and for modified, project-specific unitised façade constructions.
The characteristic 80 mm profile gives an elegant façade appearance while cover caps are also available as design options, enabling a perceived sightline of just 65 mm – with the same high load-bearing structure.  As a result, large unit dimensions of 3 x 4 metres and maximum unit weights of 1000 kg are possible.
The Schüco UDC 80 aluminium façade also sets new standards in terms of energy efficiency with U-values as low as 0.86 W/(m2K). Concealed when not in use, the new Schüco ZIP Design Screen textile sun shading reduces solar gain and the need for indoor cooling, without impacting the overall design of the façade.
The system is designed to provide excellent design freedom with horizontally offset units, diagonal glazing bars or the use of opaque units. Opaque sections can be created from a wide variety of different materials, such as sheet metal panels, printed glass and natural stone. These can either be integrated flush into the façade unit or face-fitted to create deep offsets using system attachment components.
When combined with balconies as a project solution, mechanically controlled insert units and project-specific, highly water-tight ASE 80 TC sliding doors (Aluminium Sliding Element, 80 mm basic depth) also permit function-oriented design for high-rise residential buildings.
Where floor-to-ceiling opening units are used, the required safety barrier loading is achieved by means of a transparent, profile-integrated spandrel safety barrier, which blends in seamlessly and attractively into the unitised façade appearance, without interrupting the profile.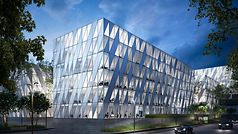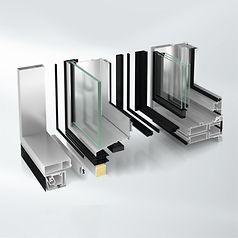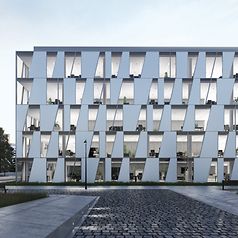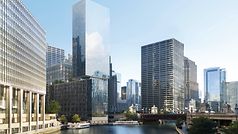 Schüco AF UDC 80 CV aluminium façade
The Schüco AF UDC 80 aluminium façade can be combined with the Schüco AF UDC 80 CV façade, which has concealed projected top-hung and parallel-opening vents. The two modular façades look the same from the outside: viewed from inside, the UDC 80 CV system only differs in the window handle for the opening unit.
Schüco AF UDC 80 SG aluminium façade
The Schüco AF UDC 80 SG (Structural Glazing) aluminium façade gives the appearance of an all-glass façade; on the inside its design is that of a unitized façade with narrow face widths of only 80 mm.
Furthermore, a high level of design freedom is assured thanks to horizontally offset units and the use of opaque sections or diagonal glazing bars. The Schüco AWS 114 SG window series allows large insert units to be constructed as projected top-hung or parallel-opening windows. The design with stepped insulating glass ensures seamless integration in the façade, while the unitised construction also guarantees particularly efficient fabrication and installation.
Watch our webinar on Schüco AF UDC 80
To watch our webinar recorded on Tuesday 15th September, please click here. 
Register now..
Work material (e.g. tender specifications, BIM objects, CAD data, catalogues)
Note content
Direct contact to Schüco