Discover the benefits of thermally broken aluminium windows and bifold doors to help you achieve a cosy, bright home that's also energy efficient.
So, you want uninterrupted, cinematic views, maximum light and the feeling of living inside and outside at the same time? But you're not sure how to do this while remaining conscious of your energy bills and your SAP calculations. The right aluminium windows and entrance doors can be key.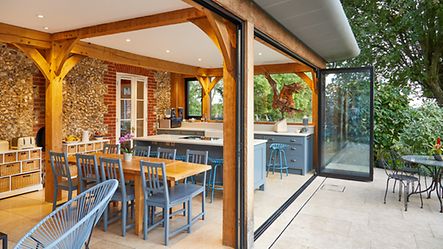 Manage your expectations, and choose the right products
How do you design a largely glazed extension, using sleek aluminium entrance doors, or sweeping bifold patio doors, without resulting in winter heat loss and summer overheating? It should be acknowledged that however good the glass is, it's always going to lose more heat than the solid parts of the house, however, as is demonstrated by a former gamekeeper's lodge in The Chilterns, it's possible to still achieve a cosy home that is also energy efficient.
This 19th-century lodge was recently given a new lease of life with an oak frame extension and Schüco aluminium windows and bifold doors. While doing this, improving the energy efficiency of the original building was also a top priority.
This was achieved in several ways. Firstly, the south-facing folding doors optimise solar gains, while heat loss is minimised by thermally broken Schüco aluminium door frames and glazing, with low U-values, which also achieve great airtightness when closed. A zinc roof overhang protects the extension from overheating in the summer and during the warmer months, the bi-fold doors along two sides of the room are often open for much of the day with smaller windows providing cross ventilation. The result is that the extension feels like an outdoor space in the summer but is also warm in the winter.
The low thermal conductivity of the oak frame also contributes, while a super-insulated floor slab and flat roof all help to reduce heat loss.
"I've been surprised by how much the heating demand has gone down. Although the house has doubled in size, the energy bills have almost halved, and we have been able to replace our oil boiler with an air source heat pump. On top of this, every time I enter the new kitchen I am wowed by the vast views."
The owner's comments:
Understanding your home's energy performance
SAP (Standard Assessment Procedure) calculations are the government's method for calculating the energy performance of dwellings. These calculations are only necessary for residential properties. In England, your SAP calculations measure two things: the Dwelling Emission Rate (DER) and Dwelling Fabric Energy Efficiency (DFEE). These calculations determine a Target Emissions Rate (TER) and a Target Fabric Energy Efficiency (TFEE) rate. The DER and DFEE must be lower than the TER and TFEE. In Wales and Scotland, the report only measures the DER – although building regulation standards are stricter.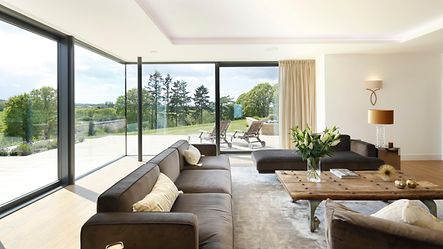 If all this is a little confusing, Schüco Technical Advisors can help you make sense of it all. Get in touch via the chat function on our website or email mkinfobox@schueco.com or to make an appointment to visit the showroom click on the button below.