How to enjoy large expanses of glazing without overheating
Large sliding or bi-fold doors and picture windows are incredibly popular for the natural light they let into our homes and the connection they provide between indoor and outdoor spaces. However, on hot days they can also mean that our homes absorb huge amounts of heat. So, how can we balance large expanses of glazing with limiting solar gain?
In the UK we've traditionally been more concerned with staying warm in the winter than staying cool in the summer. However, over the last couple of years the country has experienced record-breaking high temperatures. With the average length of warm spells more than doubling in the last few decades it is predicted that by 2050 the UK will be 50 per cent more likely to experience hot summers.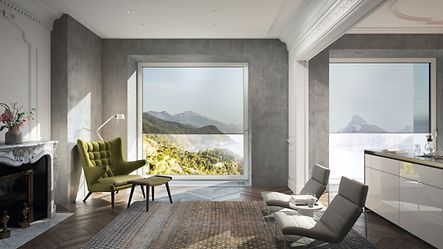 Manage your expectations, and choose the right products
Schüco offers a number of solutions that complement our thermally efficient window and door systems to help avoid your home overheating in hot weather. For example, our new Panoramic Sliding door comes with the option of integrated external sun shading.
The stylish Schüco AB ZDS textile sun shading system is designed to significantly reduce solar heat gain on sunny days but also has a high level of transparency so doesn't block out the views. It is extremely weather-resistant and stable in strong winds. This roller blind system can be customised with different fabrics and colours to suit your taste.
A sun shading option for large windows and feature glazing constructed using the Schüco AWS and FWS 50/60 systems is the Schüco Integralmaster. This internal roller blind system is almost completely concealed and allows for optimum views to the outside. It is optimised for glare protection, sun shading and heat protection and is available with both mechanical and electrical options to offer both comfort and convenience.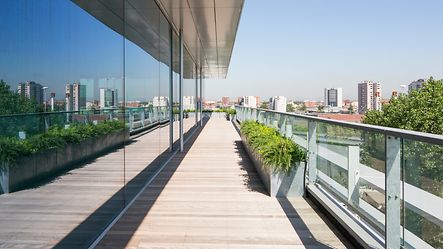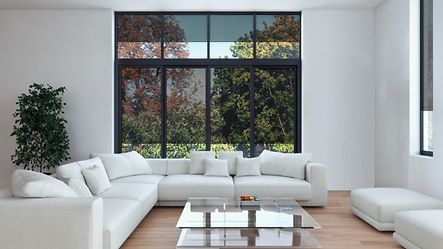 Specialist glass for reducing solar gain
Another option for reducing solar gain is to choose specialist glass for your doors and windows. Schüco works with a network of partners who are trained to fabricate and install our systems. Your local partner can advise you on the different options available for your home.
This self-build project on the banks of the River Clyde in Scotland uses solar control glass in its large expanses of bi-fold and sliding doors to keep temperatures down while still allowing spectacular views over the water.
Solar control glass has a special coating designed to reduce the amount of heat entering a building. It reflects and absorbs heat as well as filtering light for reduced glare. Using this type of glass can reduce the need for energy-intensive air-conditioning and window coverings.
Smart windows and doors
Of course, the traditional way to deal with hot spaces is to open a window for ventilation. We've brought this into the 21st Century with our TipTronic automated opening and closing smart solution.
The Schüco TipTronic system can be integrated into smart home systems to provide convenient ventilation functions as well as energy-efficient communication between the windows and the heating and shading systems. Wireless sensors and high performing magnetic switches monitor the locking status of windows, sliding doors and toplights ensuring smart and secure building management.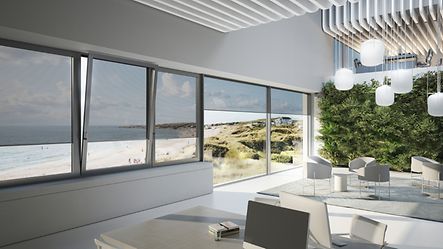 For further information and advice on the options available for your home contact your local Schüco partner or get in touch via the chat function on our website or email mkinfobox@schueco.com or to make an appointment to visit the showroom click on the button below.