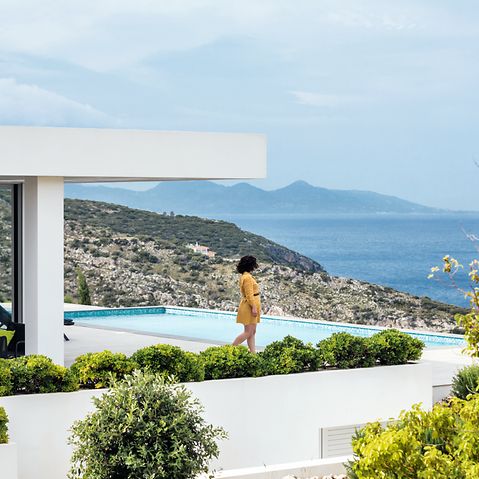 Light and shadow – a villa on Zakynthos
Dazzling sunshine, turquoise sea, endless blue sky – light and shadow. There's nothing quite like the Greek landscape, which still holds many secrets – with countless islands to discover and secluded bays to conquer. It is the perfect place to feel the sea breeze and take time to do simply nothing... which is exactly what the owner of a villa on Zakynthos thought when they built their holiday home.
Modern and timeless
Whitewashed houses with blue roofs are typical of the traditional building designs in this region – be it churches, an unassuming farmhouse or even just a stable. Often a brightly painted wooden door or one or two flower boxes are what make these buildings really stand out. Their timeless forms are archaic yet modern. They blend in seamlessly with the landscape, sometimes paradoxically: strict geometries against gentle rolling hills.
This is exactly the case at the villa on the Ionian island of Zakynthos. However, this building cannot be confused with a church or farmhouse, even from afar. It is a villa with two levels on a narrow plateau upon a hilltop, with breathtaking views of the Ionian Sea. White plastered areas, large-format glazing and a natural stone wall as the backbone connect the solid construction with the lightness and elegance of the modern architecture. Room-height glazing using profiles with minimal face widths and no disruptive handles enable a maximum field of vision, from the sleeping and living areas, and the bathrooms. The new villa comes alive through the interplay of light and shadow. The pergolas provide both sun shading and screening. The sliding doors from Schüco allow the indoors and outdoors to merge, giving the residents a feeling of freedom. This continues throughout the year, as the villa is also designed as a place to retreat in winter. The architect therefore put a particular focus on thermal insulation and sound reduction, opting for a Schüco Panorama Design sliding door. An underfloor system provides additional comfort by heating up in the winter and cooling down in the summer.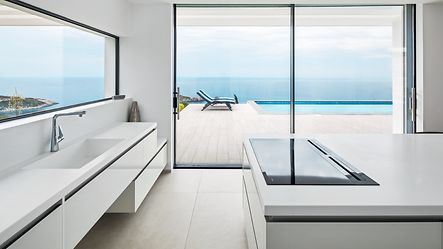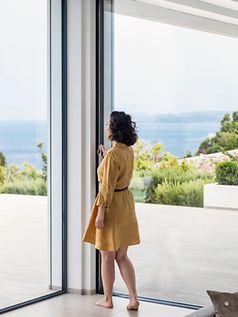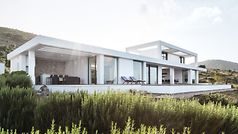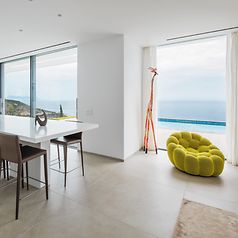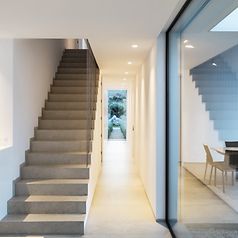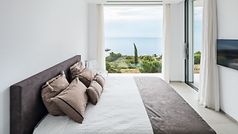 Zakynthos – travel tips
Turquoise sea, limestone cliffs, lush vegetation and traditional villages are what make the island of Zakynthos an increasingly popular travel destination. The south side draws mostly package holidaymakers, but the rough west coast hides the island's real gem: Navagio Beach, one of the most beautiful in Greece. There lies the wreck of a smuggler's ship – an adventure for adults and children alike! Even getting to the beach is a trip in itself as you can only reach it by boat. The best time to travel to Zakynthos is between May and October – we recommend going there in autumn, as the sea is warm enough to swim in even in October, when most of the tourists have left the island. The taverns and restaurants of Zakynthos town are quieter and the seafood and spaghetti still taste delicious!