air-lux and Schüco: Partnership for sliding systems with active sealing technology
Building deformations and the resulting negative effects on the weathertightness and function of large sliding units are huge challenges in high-rise construction. The solution lies in a piece of sealing technology which actively adapts to the changing ambient conditions. To this end, Schüco formed a strategic partnership with Swiss company air-lux on 11 September 2020.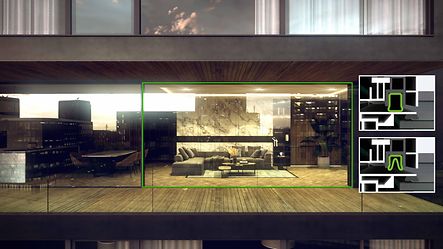 By combining forces, the two companies aim to tap into international markets together by offering extremely weathertight sliding systems. Both will benefit from the expertise of the other. air-lux Technik AG developed its patented active sealing technology and has been using it successfully in a wide range of buildings across the globe for 15 years. The technology has been continuously developed and subjected to rigorous assessments such as hurricane testing. Schüco brings its extensive experience in the development and design of sophisticated façade solutions all over the world.
Active sealing technology
At the touch of a button, air is pumped into the continuous gasket by means of a compressor that is concealed in the outer frame, thereby closing the gap between the sliding vent and outer frame. The results of this patented sealing technology speak for themselves: absorption of building movement, maximum sound insulation, Class 4 air permeability, Class E1500 watertightness and Class C4/B4 wind load.
The following animation shows how the sealing technology works: https://youtu.be/dnHG5uL4bZ4
air-lux – the Swiss glass façade system with large sliding windows and patented sealing concept
air-lux was developed in Engelburg in 2004 by renowned Swiss glass façade specialist Krapf. With its unique, patented sealing concept and large floor-to-ceiling sliding windows, air-lux sets international standards in terms of aesthetics, technology and function in outstanding architecture and challenging special solutions. This is why over 5000 air-lux systems have been installed in high-rise buildings and private homes. With air-lux, clients and architects can turn their visions into reality. Without compromise. For more information, visit www.air-lux.ch