Residential Development award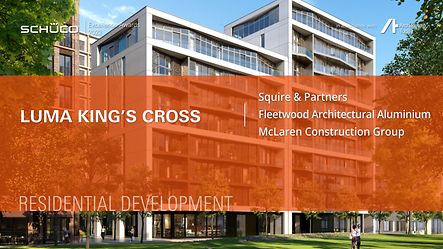 Winner of the Residential Development Award
Luma King's Cross is Squire & Partners' first building in the King's Cross Central development, London. Located on a long, slender plot between Lewis Cubitt Park and Jellicoe Gardens, the 61-apartment scheme comprises adjacent 8- and 11-storey blocks surrounded by landscaped gardens.
Intended to evoke the area's historic warehouses and railway terminus, the façade incorporates a rich mix of single- and double-height glazed units, splayed bays, projecting wedge-shaped balconies and perforated aluminium screens – all contained within a rational masonry frame. Further articulation is provided by a bespoke pattern – employed at different scales – on the metal screens and bas-relief aluminium and concrete panels.
One of the main challenges, according to specialist contractor Fleetwood Architectural Aluminium, was to seamlessly integrate and combine the main façade unit – namely Schüco AWS 70.HI fixed light profiles, Schüco ASS 70.HI sliding doors, Schüco ADS 70.HI doors and moveable perforated aluminium screens. These units had to fit the building's complex geometry while maintaining the original design intent, and performance standards relating to thermal and structural integrity.
One of the most striking visual aspects of the project is the way that the metal-clad façade units employ three different shades of bronze finish – from dark at the base to a pale gold colour at the top. This tonal consistency has also been carefully controlled on the Schüco profiles and perforated aluminium screens.
The high thermal performance ambition for the double-glazed window units was initially problematic, due partly to heat loss via the couplers. An overall U-value of 1.2 W/m2K was attained by using highly insulated profiles, high-density Rockwool insulation and high-performance glass.
On site, the installation of the Schüco ASS 70.HI sliding doors – some of which are more than 4.5-metres high – posed a challenge due to spatial constraints and the geometries of the balconies. Close collaborative working within the project team, together with the early establishment of quality levels, were central to the overall success of the façade.
The judges applauded the sophistication of the façade solution and the masterful way in which multiple elements, including double-height windows, sliding doors, geometric balconies and sliding screens, have been combined to create a high-performance and visually compelling project.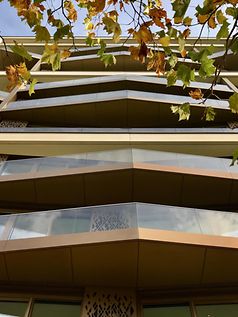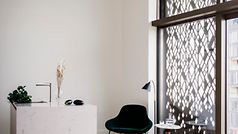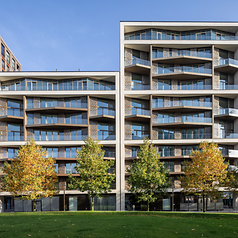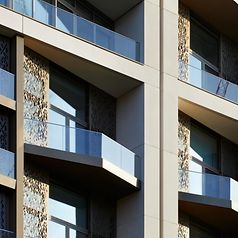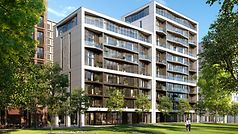 Register now..
Work material (e.g. tender specifications, BIM objects, CAD data, catalogues)
Note content
Direct contact to Schüco