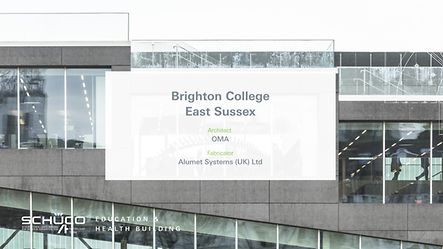 Winner of the Education and Health Buildings Award
OMA's new building for Brighton College combines two departments – sport and science – to create lively spaces where activities are not always dictated by the school timetable. Individual areas and components reveal themselves to each other: an indoor running track on the ground floor is visible from the upper levels, classrooms have floor-to-ceiling windows, and transparent fume hoods in the chemistry classrooms enable passers-by to see ongoing science experiments.
 
High proportions of glazing maximise natural light in the daytime and turn the building into a glowing lantern at night. Inside, glass and mirrored walls appear to double the size of the teaching spaces.
 
The complex façade by Alumet Systems (UK) Ltd weaves together tried-and-tested Schüco products for curtain walls, windows and doors (FWS 60+, ADS 75 HD.HI, Jansen VISS Basic, ASS 70.HI and AWS 75.SI) with structural glass planks and bespoke ventilation details. These elements are set within a monolithic GRC structural façade that was designed and supplied by Alumet Systems.
The building has no opening windows, so one of the main technical challenges was to provide natural and purge ventilation without mechanical means. Alumet and OMA developed a design that conceals this within the column space between the curtain walls. Fitted inside an insulated and sound-baffled box structure, the concealed, full-height side-hung vent – fabricated using a Schüco AWS VV vent – is not only weather resistant, but also provides excellent ventilation, acoustic and thermal performance.
 
The jury noted how the building's apparent simplicity belies its technical complexity and rigour. It was also impressed by the concealed vent detail and overall transparency of the structure.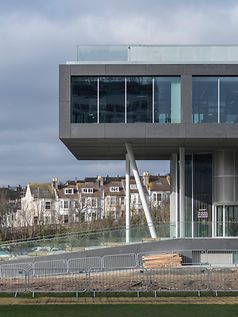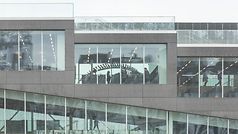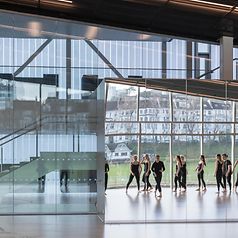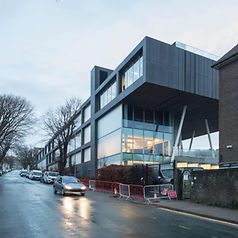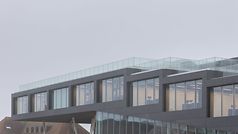 Register now..
Work material (e.g. tender specifications, BIM objects, CAD data, catalogues)
Note content
Direct contact to Schüco