Glazing for your seaside home – what are the key considerations?
Who doesn't dream of a beautiful seaside home? Waking up to the sound of the gentle waves hitting the shore and watching the sunrise over the horizon. Catching the Starlings perform a captivating murmuration in the evening. It's the definition of bliss.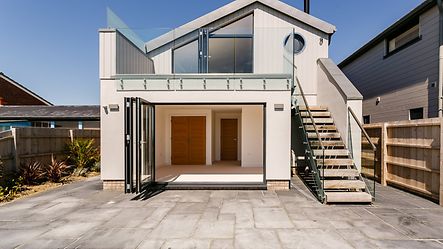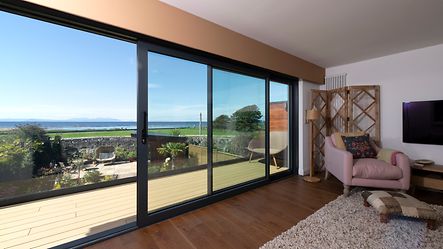 There are key considerations that need to be made about the fabric of your home when living by the seaside, and glazing is one of them. 
Clear Living Limited is a glazing design and installation company that regularly works on coastal projects. Kristian Hansen, Director of Clear Living Limited, takes you through some of the factors to keep in mind when installing glazing in your seaside home.
How do you weatherproof your home for all seasons?
The summer months is arguably when you're going to experience the greatest benefits of living near the seaside, but you will need to ensure you have a well-ventilated home. You'll need to consider the orientation of the property to manage the amount of sunshine that enters your home and control any possibility of overheating.
It's for the winter months that you really need to ensure your home is able to combat the marine environment. Clients need to be aware of the additional maintenance requirements of living by the coast. There's more salt in the air, meaning materials will be more susceptible to corrosion and will require more regular maintenance.
One thing to consider is the marine quality of the paint finish on your aluminium-framed glazing units. Anodised finish weather much better than paint and if you're located immediately on the seafront it's essential as no powder coating company will give you a warranty.
However, there's an increasing variety of anodised colours and natural metal finishes in anodising available on the market. Anodised systems still allow you to express some creativity in your glazing.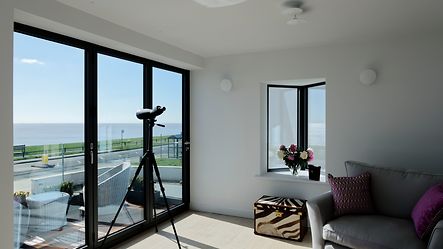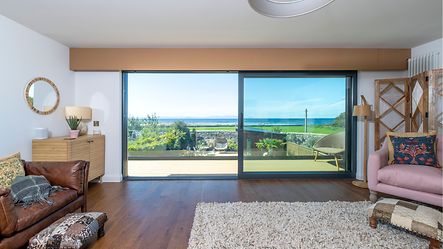 Have you got any tips for people considering glazing in their seaside home?
Choosing the right fabricator is essential. How they protect the profiles during fabrication and how the building is designed in terms of waterproofing and after care is integral to a seaside home being fit for the environment. The pre-treatment of aluminium prior to installation and painting is also incredibly important.
You should look for a company with experience of working in a marine environment due to the susceptibility to corrosion.
The company needs to demonstrate that they're used to working in harsh environments and can provide valid insurances for designing and installing glazing systems in this type of environment, otherwise, all of the risk falls on the homeowner.
Making sure the system is structurally capable and can weather unique, strong wind loads is also vital. You should go for a tried and tested system provider, like Schüco, that has been thoroughly tested with instances of installation in coastal locations similar to yours. Many companies will offer a system for coastal homes, but they'll be no good if they're designed for a Mediterranean seaside climate.
If possible, you should also get references from others who've used the glazing system you're considering in their coastal home. They'll be able to impart knowledge from a homeowner perspective that will help you choose the best system and company for the job.
To find out what Schüco can do for your home,  email mkinfobox@schueco.com or to make an appointment to visit the showroom click on the button below.