A modern, light-filled home for a multi-generational family
Rav and Joti Dhuna have refurbished and built homes for many clients through their company, the Design, Renovation and Build Team. In 2019, the couple put their skills to use redesigning their own family home in Farnham Royal, South Buckinghamshire.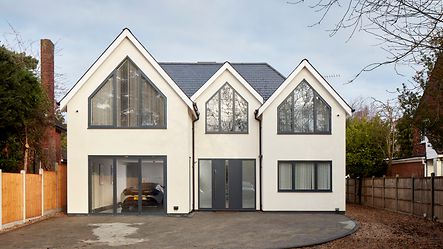 With four grown up children and Rav's mother living at home, the family needed more space. Rav and Joti decided to demolish the existing house and designed a modern 4500 square foot, six-bedroom home to better suit the family's changing needs. Having worked in the construction industry for over twenty years, Rav was keen to use quality materials. He had used Schüco products in other projects and was impressed by their quality, durability and design, and therefore specified Schüco windows and doors to be used throughout the property.
As soon as they enter the driveway, visitors are bowled over by the stunning house. Rav is a car lover and eschewed a traditional garage door in favour of a Schüco ASS 70 FD bi-fold door.
Rav explains
"If you have a beautiful car, why wouldn't you want to see it? Rather than hiding the car away behind a garage door, the glazed bi-fold door allows it to be on display while keeping it secure. The door threshold is flush with the ground so the car can easily be driven in and out of the garage."
Redesigning for open plan living
The first floor bedrooms boast gable end opening windows which echo the rooms' vaulted ceilings. These Schüco windows are a bespoke solution that lend the house a distinctive look. A 2.5 metre-wide Schüco ADS 75 front door provides a grand opening into the double-height entrance lobby. An EI60 fire-rated glazed wall showcases the car parked in the garage. The family enjoy spending time together and entertaining friends, so they made a large open-plan living space the focal point of the ground floor. Rav says, "We wanted to create a spacious, light-filled living area. Seven-metre wide bi-fold doors flood the room with natural light and provide views over the garden. Further light is drawn in through the large roof lantern above the seating area."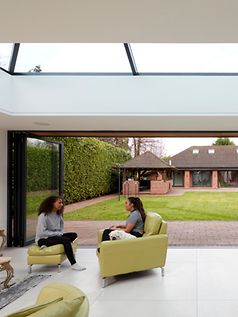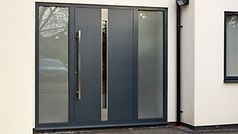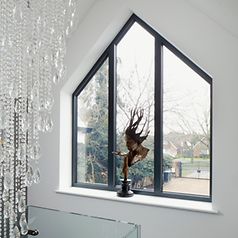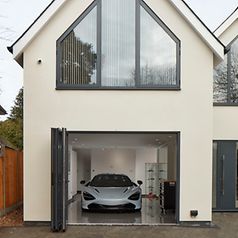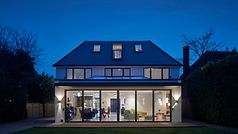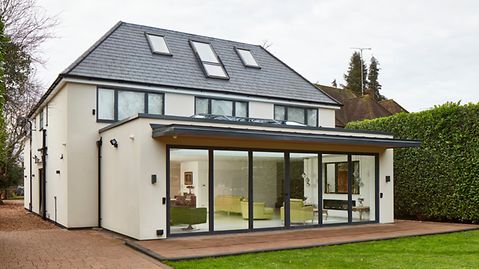 A short commute to the office
While building the house, Rav and Joti Dhuna started looking for new premises for their business. They soon realised they already had the perfect place.
The family had previously converted an outbuilding to the rear of the property to house Rav's car collection. The outbuilding had been fitted with Schüco bi-fold doors so the cars could be viewed even when the doors were closed. With these doors already in place, Rav realised the building could easily be converted into an office. A major bonus would be that the family's home could act as a showroom for the business.
Rav says, "The Schüco doors were installed eight years ago and are still as good as new. There's a large six-pane bi-fold door and two smaller bi-fold doors that tilt and turn which is useful for ventilation without having to open the doors fully.
"I chose Schüco for its durability and quality, and as you can see in my properties, the products are very versatile."
The family are enjoying life in their spacious, light-filled home, with an enviably short commute across the garden to get to work in the company's stylish new office.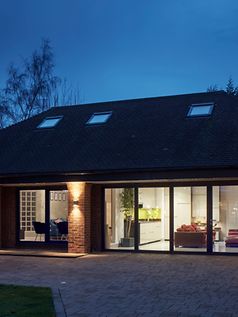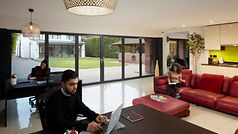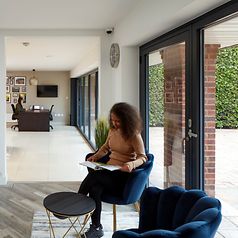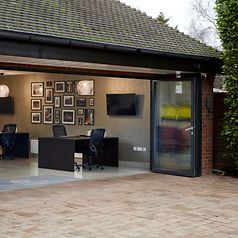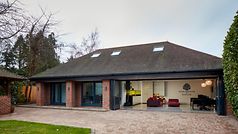 Find your Schüco partner
Schüco works with a network of partners, who are trained to manufacture and install Schüco systems. A Schüco partner will support you with your project, from tailored design advice to the manufacture and installation of your bespoke Schüco products.