Folding sliding systems and transparency don't go together? Yes, with a vent width of up to 1,500mm and a narrow face width of 90mm, the AS FD 75/90.HI sets new standards when it comes to transparency.
Can you spare 3 minutes? Watch now and discover the Schüco AS FD 75 folding sliding door.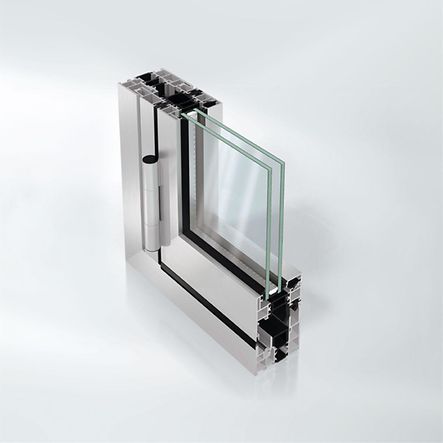 With extremely slim face widths and flush-fitted outer and vent frames, the Schüco AS FD 75 folding sliding system really stands out.
A comprehensive selection of opening and locking types makes individual designs possible with maximum planning freedom.
3 different threshold types, including a flat threshold with great rollover capacity, make the system adaptable to many installation situations.
An optional side-hung door enables quick passage, while an integrated magnetic retaining catch ensures secure opening and closing of the folding sliding unit.
The system now offers a higher level of security, meeting burglar resistance class RC 2.
The improved sealing concept with two continuous gasket levels offers greater watertightness and air permeability values for all opening types.
Fabrication benefits
Corner and T-cleats can be screwed on, ensuring simple and quiet installation of the outer frame.
Lateral adjustment profiles in the outer frame compensate for tolerances once installed.
Extremely quiet operation of the vents is achieved through massive stainless steel tracks and stainless steel rollers.
The system is easy to transport and takes up little space on the construction site, making building completion very efficient.
A reduced number of insert profiles allows for easy assembly.
Guide carriers are secured against becoming detached in the top outer frame.
2 profile widths selectable for sash frame profiles.
Still don't have a user account?
Many benefits as a registered user:
Work material (e.g. tender specifications, CAD data, catalogues)
Software & Tools
Note content
Direct contact to Schüco