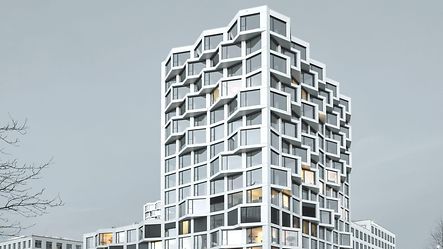 Information about the reference project
| | |
| --- | --- |
| Type of building: | Office and Business |
| Products: | Doors, Façades, Windows |
| Series: | AWS 75 BS.HI+, ADS 75 HD.HI, AWS 75.SI+ |
| Series (no longer in the portfolio): | FWS 50+ |
| Location: | Munich, Bavaria |
| Completion: | 2016 |
| Architects: | ALLMANN SATTLER WAPPNER |
| Specialist company: | Heidersberger Fassadenbau GmbH |
| Picture credits: | © Brigida González, Stuttgart |
Friends residential high-rise buildings
The two Friends residential high-rise buildings at the Hirschgarten in Munich are the perfect example of how urban living is changing, not only in the clear identity of the façade style, but also through the architectural implementation of a sharing concept as a future-proof living model. Originally, "residential use" was not in the planning criteria for this plot that was specified as a mixed and core zone. It was only in 2012, when the huge shortfalls in residential construction in Munich became increasingly apparent, that people began to look into the possibility of a partial residential construction on this site. When implementing this model as a suitable architectural concept, the architects perfected the cores of the development including the required technical elements, in order to create a more flexible, spatial range of living units with the best possible lighting. All residential units are organised efficiently around the central service core, the "cube", which provides the kitchen, bathroom and other uses. There are also common rooms in both towers. This efficient overlap of private and communal space is based on the urban fundamental ideal of future-oriented city living typologies. Each living space is visually maximised into the surrounding city by means of floor-to-ceiling façade units and folded oriels, enabling far-reaching panoramic views of the city and surrounding landscape.
Inspiration from the reference project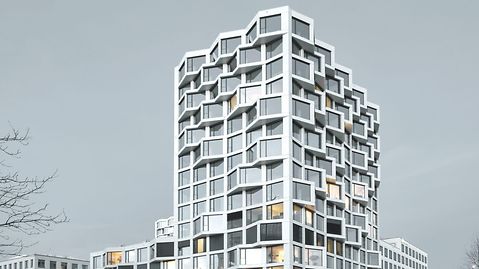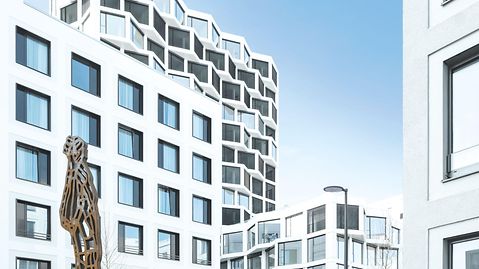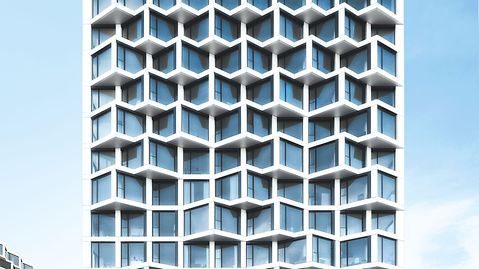 Location of the reference project
Register now..
Work material (e.g. tender specifications, BIM objects, CAD data, catalogues)
Note content
Direct contact to Schüco