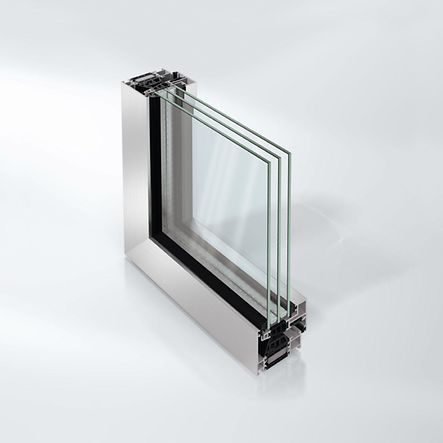 Highly thermaly insulated block window with concealed vent for sophisticated design requirements
With outstanding thermal insulation values and a slimline design without visible vent contours, Schüco AWS 75 BS.HI+ (Block System High Insulation) meets the highest energy-efficiency and architectural requirements with the greatest possible transparency.
The aluminium block window system is part of the Schüco AWS modular system for the 75 mm basic depth and features optimised characteristics in terms of function, energy efficiency and design.
Thanks to a high level of system flexibility, attractive design solutions are possible for a wide range of architectural requirements in the building envelope: as a punched opening, ribbon window or insert unit in Schüco façade systems as well as a "floating window".
The wide range of opening types includes designs such as side-hung and turn/tilt vents as well as bottom-hung toplights.
Another benefit of the block window series is the wide range of profiles for the system, including corner mullions, structural mullions, symmetrical and asymmetrical mullions, as well as TipTronic vent profiles. They enable the use of the Schüco TipTronic SimplySmart generation of electrical fittings, a fully integrated drive for numerous opening types.
The window system thereby sets standards in terms of planning and design flexibility for the construction of energy-efficient, stylish building envelopes.
Planning benefit
Block window system for 75 mm basic depth with outstanding thermal insulation, narrow face widths and concealed vent without visible glazing beads
Combination with the concealed Schüco AvanTec SimplySmart system fitting allows for large vent weights and an opening angle of 180°
Vent profiles for the Schüco TipTronic SimplySmart generation of fittings can be used
Burglar resistance in accordance with DIN EN 1627
High level of planning freedom through integration as insert unit in Schüco façades – in the "floating window" design too – as well as punched opening or ribbon window with a range of different opening types
Register now..
Work material (e.g. tender specifications, BIM objects, CAD data, catalogues)
Note content
Direct contact to Schüco