Bookmark product
Schüco Sun Shading System CSB in front of Schüco Façade System FWS 50/60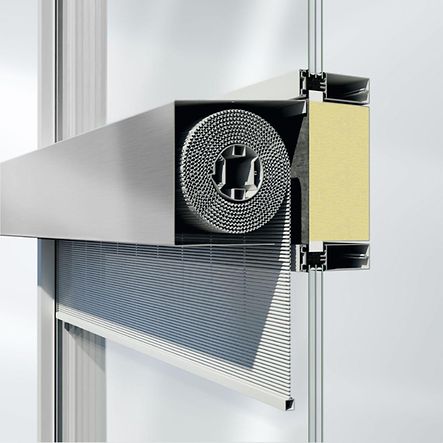 Forward-mounted shading solution for façades – extremely wind-resistant
The Schüco CSB (Concealed Shaped Blind) sun shading system, externally forward-mounted on the Schüco FWS 50 and Schüco FWS 60 façade systems, offers a convenient shading solution that heavily reduces solar heat gain in buildings on sunny days.
With a high level of transparency of over 23 percent, the user retains the link to the outside world even when the blind is completely closed, including on days with extremely high winds as well. The stable louvre blades made from extruded aluminium can withstand extremely high wind loads.
The aluminium sun shading system, which can be rolled up, impresses with an attractive, timeless visual design and offers yet further design options: in order to meet the most varied architectural requirements in building planning, the louvre blade blind is available in six anodised colours, C0 and C31 to C35, guaranteeing perfect integration into the façade appearance.
Planning benefit
Façade-integrated guide tracks with face-mounted box in front of the façade
Extremely high wind stability
Complete shading of direct solar radiation when the angle of the sun is 21° or higher
Detection of obstacles when blinds are raised
Surface finish that is resistant to weathering thanks to anodised finish
Narrow and modern louvre blade design
Register now..
Work material (e.g. tender specifications, BIM objects, CAD data, catalogues)
Note content
Direct contact to Schüco