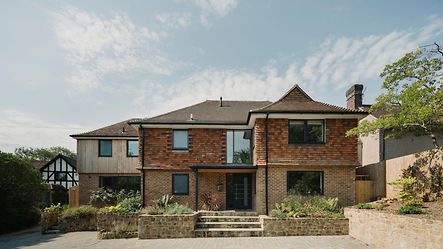 Information about the reference project
| | |
| --- | --- |
| Type of building: | Living |
| Products: | Sliding doors |
| Series: | ASS 70 FD |
| Location: | Midhurst, United Kingdom |
| Completion: | 2018 |
| Architects: | Sloane and Brown Ltd |
| Specialist company: | Euro Aluminium Ltd |
| Picture credits: | TIM CROCKER |
A forever family home filled with light
A forever family home filled with light
It was far from love at first sight when Hannah and Duncan looked around a 1970s house in Sussex.  "We were moving from a period villa with sizeable rooms, high ceilings, lots of original features and a seaside feel," explains Hannah. "When we came to view this house, the low ceilings, unorthodox layout and slight feeling of neglect were a bit dispiriting."
What changed their minds was the potential to create the light-filled, open-plan living space that they were looking for. "It was essentially a blank canvas, and we saw that we could create something more modern and attractive and that really, there was nothing standing in the way of that ambition."
The couple had been slightly hesitant to leave their urban life so the house in Sussex needed to compensate for a lack of big-city amenities by providing exceptionally high-quality family living space.  "We wanted an expansive, open-plan feel to the whole ground floor and to have a minimal transition between the garden and the interior. We were looking for a generous, light-filled space and the ability to simply throw open the back of the house and wander in and out effortlessly, so if we fancy breakfast in the garden – it's easy."
The couple assembled their project team and architectural designers Sloane and Brown understood their vision straight away. "When I first saw the property it was clearly a house that had not been updated in a meaningful way for some considerable time," says project architectural designer Phil Brown. "They are a young family who wanted a more contemporary home suitable for modern living but without entirely losing the character of the original building.
"Working closely with the client, we agreed that the primary objective was all about inside-outside living – creating one big usable space at ground floor level rather than a series of separate spaces."
The three huge sets of bi-fold doors (the largest measuring 4900mm X 2200mm) across the back of the house were fundamental to this vision, as they create a seamless transition between the outside space and the kitchen, dining room and living room. These generous areas of glass are echoed on the first floor by French doors and glazed balconies.
Absorbing what was the garage into the ground-floor footprint of the house and adding a first-floor extension could have created an unsatisfying asymmetry to the rear so there needed to be some common design features to bring the whole project together.
Specialist contractor Euro Aluminium recommended the use of Schüco bi-fold doors and windows throughout the project. "We used the ASS 70 FD system for the large bifold doors" recalls MD Gabriel Andrisan. "It has an elegant, slim 120 mm profile and we were able to use the same system for the French doors on the first floor.  All the other windows throughout the property were designed using the AWS 70 SC system so there is a common aesthetic which helps this project really come together.
"It was a challenging project, but I think the blend of contemporary and period details works in complete harmony. The result is a coherent design that really works."
Although it perhaps ended up being a larger project than Hannah and Duncan had initially set out to tackle, the result is everything they were looking for.  "We spent a long time thinking about what we wanted to achieve and top of the list was the integration of the indoor and outdoor living space.
"We had done our homework and considered Schüco because of the design and quality of their products. However, Gabriel from Euro Aluminium really showed us the flexibility of the systems and suggested how to design all the windows and doors to provide both the function and look we were after.
"There is so much glass that even when all the doors and windows are closed, the house is flooded with light and even in midwinter the slightest glimmer of sunshine keeps the whole space feeling warm and welcoming."
If you're interested in finding out what Schüco products and systems can do for your home, you can find your local Schüco partner here.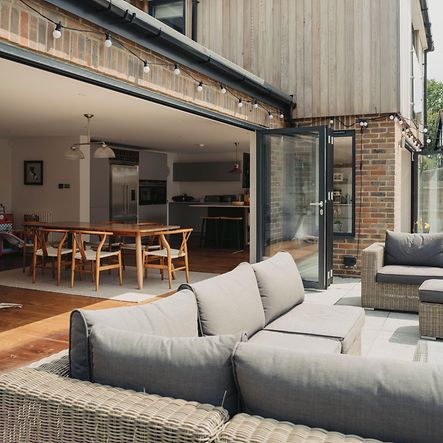 Inspiration from the reference project