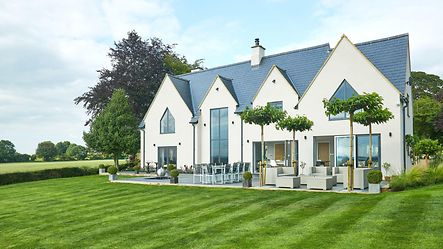 Information about the reference project
| | |
| --- | --- |
| Type of building: | Living |
| Products: | Windows |
| Series: | ASS 70 FD |
| Location: | Aynho, United Kingdom |
| Completion: | 2020 |
| Architects: | Thomas Charles Grant |
| Specialist company: | Thomas Charles Grant |
| Picture credits: | © John Selby |
Everybody has remarked on how beautiful the house is!
Everybody has remarked on how beautiful the house is!
The extension and re-rendering of this beautiful house amid the tranquil and quaint scenery of Northamptonshire was a carefully considered project. Homeowners Chris and Gillian wanted to take advantage of the picturesque views throughout the year, whatever the weather.  
The UK has a reputation for unpredictable and often undesirable weather – you can experience four seasons in one day – so weathertight windows that enhance the comfort of the living space were a necessity for Chris and Gillian. "The large expanse of glass traps the heat wonderfully well and helps to circulate fresh air throughout our home – it's a really important part of the design."  
The large windows and bi-fold doors have enabled Chris and Gillian to soak up the views at all times of the day and year from the comfort of their own home. "It's wonderful having people over. Everybody has remarked on how beautiful the house is and how it has such a modern feel yet still has a sense of belonging within the surrounding landscape. The whole project was well worth the wait." 
When asked about the most successful elements of the newly renovated home, Chris went straight for the doors and the contribution they make to the aesthetic of their home. "The bi-fold doors are probably my favourite element of the house – we have three of them in total and they are simply beautiful. It's clear to me why Schüco is considered one of the best on the market."  
The bespoke gable windows are another eye-catching feature. Tom Grant and his team of fabricators at Thomas Charles Grant thought long and hard about the design and managed to install the windows deep into the recess to allow for a generous interior windowsill. 
If you're interested in finding out what Schüco products and systems can do for your home, you can find your local Schüco partner here.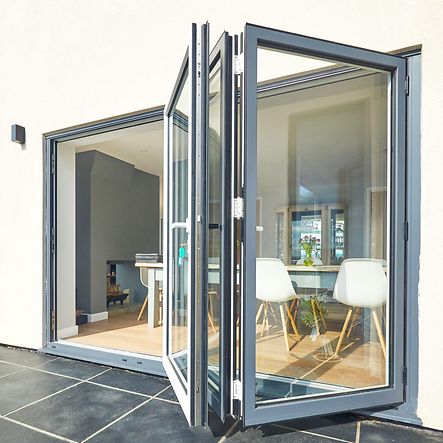 Inspiration from the reference project