Events at the showroom
Take a look at the many different ways you can use the showroom space
Digital Leaders in Architecture – Livestream Event
While many are still discussing the effects that digitalisation will have on our built environment, the Digital Leaders in Architecture series of events demonstrates that the future is already upon us.
The panel discussion all about "Smart Work" took place on 27 April 2021 with Ralf Wetzel (Architect, General BIM Co-ordinator at RKW Architektur+) and Horst W. Keller (CEO, DERPLUSARCHITEKT).
Both speakers gave insights and examples of best practice for new ways of working in architecture.
Interview with Senator Dr Anjes Tjarks on traffic trends and urban planning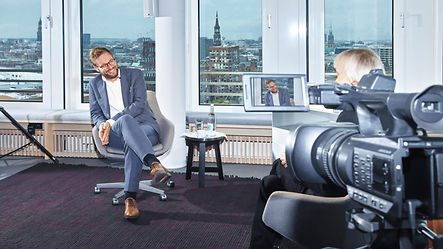 In an interview on 21 October 2020 with Volker Roscher, Managing Director of Hamburg's Architektur Centrum, Dr Anjes Tjarks – Senator for the public authority on transport and mobility in Hamburg – discussed issues such as the expansion of the public transport network and making it emission-free, Hamburg as a cycling city, reducing car traffic, electromobility in cars as well as the expansion of Hamburg's main train station.
"These are all issues we need to tackle," said Senator Tjarks. Aspects such as the climate, sustainability, quality of life, air quality and fewer pollutants also play a key role in transport policy. It was also about designing an attractive city, as "people who move through the city on their bikes, the bus or by foot want it to be beautiful," says Tjarks.
HAK President Karin Loosen interviewed on architecture and urban development
On 23 September 2020, Karin Loosen, President of the Hamburg Chamber of Architects (HAK), was a guest at the showroom. In conversation with Volker Roscher, Managing Director of the Architektur Centrum, she discussed and addressed architectural and urban planning issues in Hamburg, as well as the current state of design as a profession during the pandemic.
During the interview, Loosen explained that the coronavirus situation will accelerate current trends and innovation in the construction industry. "Issues such as digitalisation, living and working, and the mobility revolution, which are are undergoing a fundamental transformation, have become more prominent due to the coronavirus." This makes it all the more important to deliver good ideas for future urban development and to question, for example, how much private living space is required and how much can also be used communally, through compact floor plans and connectable areas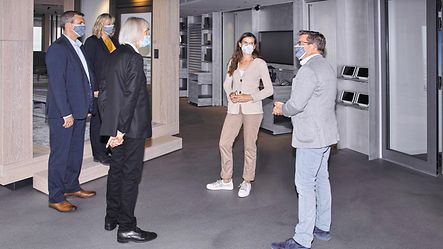 Awarding the WohnbauPreis Hamburg 2020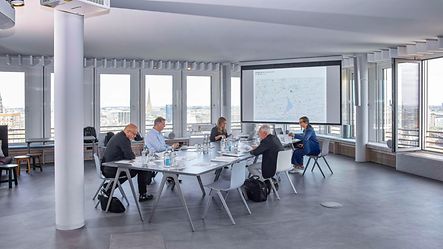 Every three years the WohnbauPreis Hamburg, an initiative by the Architektur Centrum, recognises exemplary residential constructions from the greater Hamburg area. With the award, the Architektur Centrum seeks to highlight notable construction and design quality, as well as integrated and sustainable solutions in modern residential buildings.
The judging panel, consisting of Franz-Josef Höing (Chief Planning Director for the Hamburg Ministry of Urban Development and Environment), Tim Heide (Heide & von Beckerath, Berlin) and Professor Dietmar Eberle (Baumschlager Eberle Architekten, Lustenau) spent two days in the showroom assessing the submitted projects.
Interview with Senator Dr Dorothee Stapelfeldt on contemporary urban development
On 26 August 2020, Dr Dorothee Stapelfeldt, Senator for the Hamburg Ministry of Urban Development and Environment, visited the showroom. As part of the interview with Volker Roscher of the Hamburg Architektur Centrum, she spoke with enthusiasm about relevant topics such as housing shortages, urban districts, green recreational spaces and attractive public areas, as well as major urban development projects.
These issues have become significant, particularly in light of the lockdown response to the coronavirus pandemic. "It is important for a city that is a metropolis with a high population density to have attractive green and recreational spaces in close proximity to housing. And, of course, attractive public spaces as well. This improves quality of life but, at the same time, is a huge challenge for large cities" says the senator.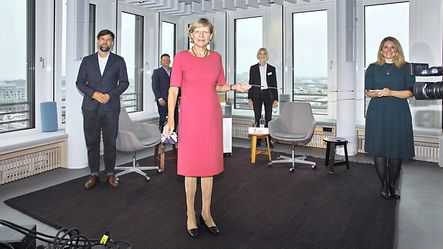 New mobility in Hamburg – Infrastructure and transportation concepts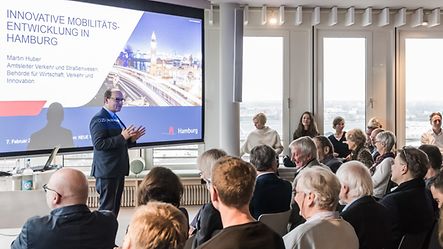 On 07 February 2020, the Architektur Centrum used the Schüco showroom to hold the inaugural event in its "New mobility in Hamburg – Infrastructure and transportation concepts" series.
Volker Roscher and Johann-Christian Kottmeier (Managing Director and President of the Architektur Centrum, respectively) gave the welcome address for the topic "The new Elbbrücken station – Architecture for the transportation infrastructure of the future". Andreas Rieckhof (Councillor for the Hamburg Ministry for Economics and Innovation), Martin Huber (Head of Transport and Highway Research at the Hamburg Ministry for Economics, Transport and Innovation) and Stephanie Joebsch (Architect, Director of gmp International GmbH) delivered exciting presentations to the many guests in attendance.
Eindrücke der Eventfläche
Unser Showroom bietet ausreichend Platz für beispielsweise Seminare, Workshops, Lesungen, Konferenzen oder Tagungen. Nutzen Sie die Fläche ganz individuell  und nach Ihren Wünschen. Für Ihre Veranstaltung stehen Ihnen Beamer und Leinwand, Flipchart, Mikrofone und kostenfreies WLAN zur Verfügung.