See system technology and discover reference projects
Welcome to the Berlin showroom
The showroom is in the heart of the vibrant City West area of Berlin. This is where sophisticated technology meets stylish innovation. In our exhibition space, we underline maximum quality and specialist expertise. Come and see our aluminium and PVC-U window, door, sliding and façade systems for yourself or with your customers. And discover numerous projects nearby that have been created using Schüco system technology.
Are you curious?
The Berlin showroom showcases new exhibits and concepts. Discover these now in the film or visit us in person to find out about the new living spaces and solutions for the commercial sector in the Schüco showroom.
We look forward to meeting you!
YOU ARE PLANING A VISIT TO THE SHOWROOM?
Please arrange a visit with the showroom team in advance.
*** Changed opening times ***
The opening times are as follows:
Tuesdays, Wednesdays and Fridays: open from 10 a.m. to 1.30 p.m. and from 2.15 p.m. to 6 p.m.
Mondays and Thursdays by prior arrangement.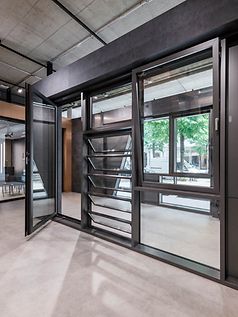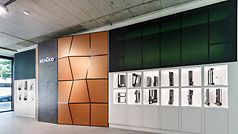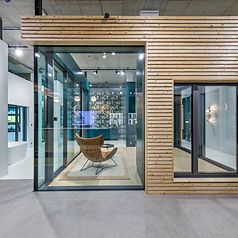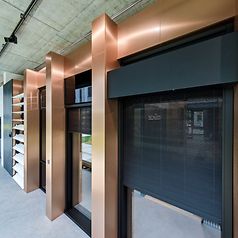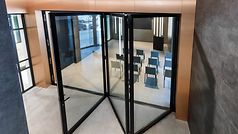 Events at the showroom
Take a look at the many different ways you can use the showroom space
Take a look at the many different ways you can use the showroom space
Digital Leaders in Architecture – livestream event
While many are still discussing the effects that digitalisation will have on our built environment, the Digital Leaders in Architecture series of events demonstrates that the future is already upon us.
The second in the series of events took place on 26 November 2020. At the Schüco showroom in Berlin, Dirk Dittrich from edge-technologies and Albert Achammer from ATP architects engineers were invited to speak as part of a panel discussion which was broadcast via livestream.
On the topic of smart buildings, both speakers gave insights and examples of best practice for "smarter planning" and "better buildings". They did this from the perspective of both the project developer and the architectural practice.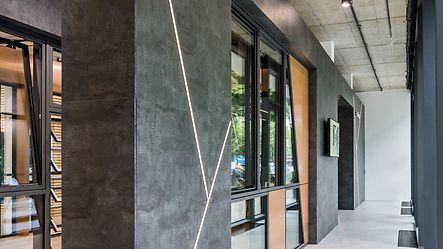 Exhibits
Alongside numerous metal window, façade and sliding door systems, products from the PVC-U division are also being shown. Solutions for energy-efficient building renovation and new technologies for intelligent functionality can also be experienced.
Overview of exhibits (pdf, 39.5 KB)