Get up close with a wide range of products
Welcome to the Frankfurt showroom
Our showroom is situated directly in the Nextower, the most attractive location for business in Frankfurt and the new landmark in the Palais Quartier district. Business in a prime location.
With 772 m2 of floor space and numerous life-size exhibition pieces, the Schüco showroom has a lot to offer. The Work, Life and Home topic studios showcase products such as the new Schüco ASE 60/80 sliding system, as well as the FACID textile façade. The showroom facilities are rounded out with the Digital Lab, which displays and presents digital products from Schüco. Discover the showroom for yourself, either with a personal consultation or at an event.
Are you planning a visit to the showroom?
The showroom is only available by prior appointment.
Please agree a suitable time to visit in advance with the showroom team.
16.06.23 all-day closure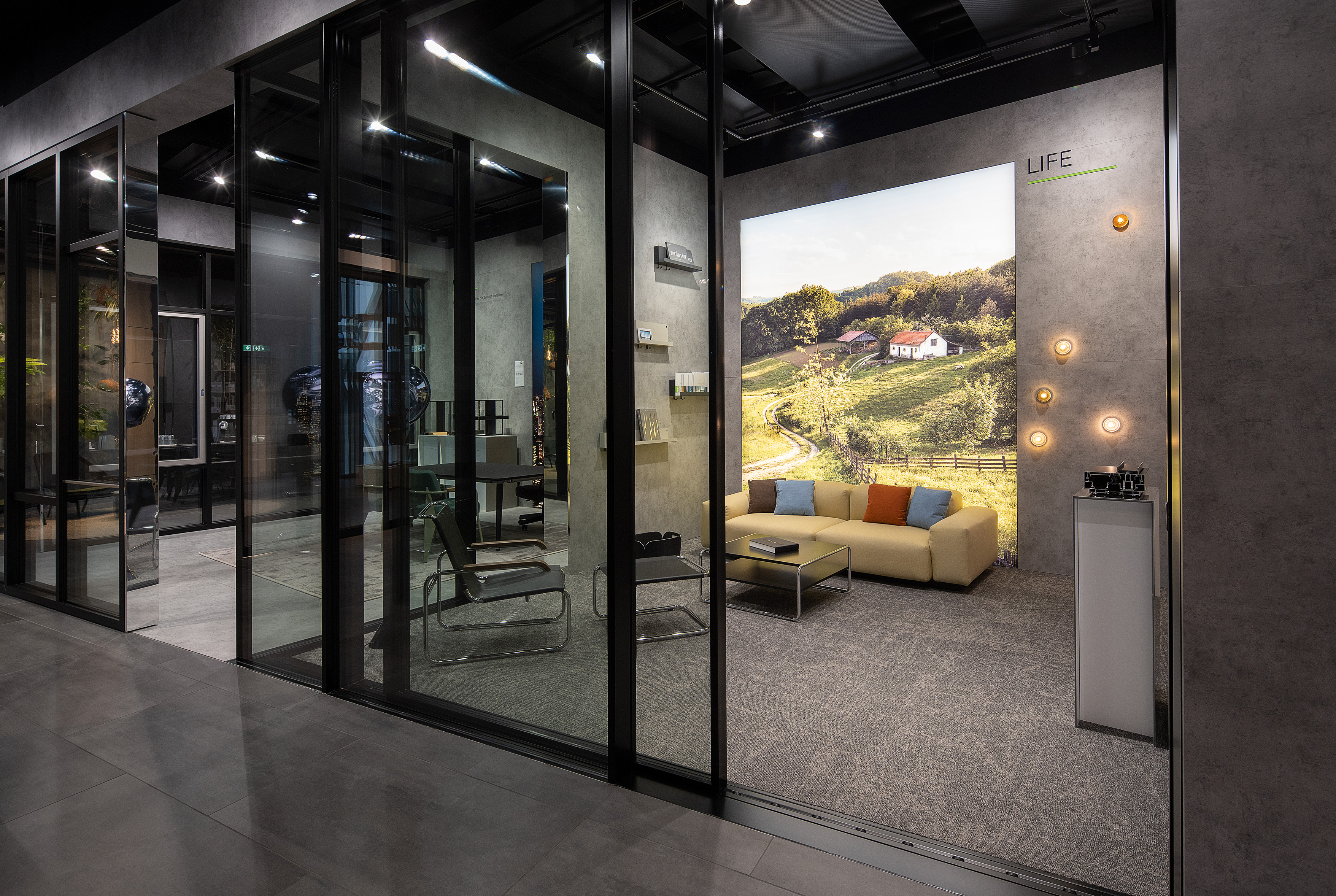 Products and solutions
The interactive showroom presents options for the efficient design, fabrication and installation of the wide-ranging Schüco metal fabrication systems, including window, façade and sliding door systems. Solutions for energy-efficient building renovation and new technologies for the intelligent building envelope can also be experienced.
360° panoramic showroom tour
There is so much to discover across 772 m2 of space.
Take a first look at the showroom, event and office space with the 360° panoramic tour.
Events at the showroom
Interesting topics and the chance to network
Interesting topics and the chance to network
Digital Leaders in Architecture – Livestream Event
While many are still discussing the effects that digitalisation will have on our built environment, the Digital Leaders in Architecture series of events demonstrates that the future is already upon us.
Experts take a look outside the virtual box and report on best practice cases from their daily work, thereby showing why it pays to be a pioneer when it comes to smart buildings, smart work and the smart future.
The first event in the Digital Leaders in Architecture series took place at the end of September via livestream from the Frankfurt showroom and was a complete success.