Bexley Peep
Right in the heart of Sussex lies Midhurst, a small town with a lot of history. Buildings from the Middle Ages nestle beside historic half-timbered houses and buildings from the Victorian era. This is where Hannah and Duncan bought their 1970s property with a vision of renovating it and transforming it into their dream home. The couple have achieved their dream of a cosy home for the whole family.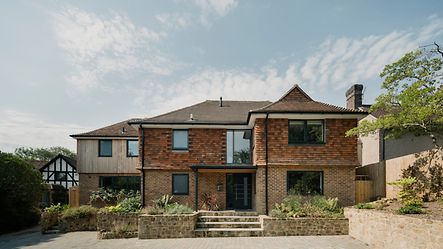 Creating modern and open living concepts
Before the family could move into their new home, a few renovation works were on the cards. The 1970s house was renovated to fit Hannah and Duncan's individual requirements. "At the start, it was like we were standing in front of a blank canvas. We could see the potential of the house and knew that we could make it into a beautiful, modern home," the owners say. The couple wanted to open up the dark, closed in rooms and replace them with an open living space flooded with light. In short, a home that creates a feeling of wellbeing. Sloane and Brown, the architectural practice commissioned for the project, understood the couple's vision immediately.
"We wanted to create a spacious, open atmosphere throughout the ground floor, and a flowing transition to the garden. We envisaged a generous space flooded with light and the opportunity to effortlessly enter the garden from the house." - Clients Hannah and Duncan
Interplay between indoors and outdoors
The couple's dream was realised with the help of large Schüco Folding Design sliding doors which sweep across the back of the house. ASS 70 FD was chosen for the two Folding Design sliding doors, offering a slim and elegant profile. A further advantage to these doors is that the individual units fold compactly to the side when open. This creates maximum space for access and ensures the highest degree of transparency. And if you just need to quickly pop in or out without fully opening the sliding doors, the side-hung door allows for easy access. The flat threshold enables a seamless transition between the garden, kitchen, dining room and living room. Gabriel Andrisan, Managing Director of the fabricator Euro Aluminium, summarises: "It was a challenging project which successfully manages to create harmony between historic and contemporary design details. You can see this in the end result: an open, modern home which retains the original character of the house."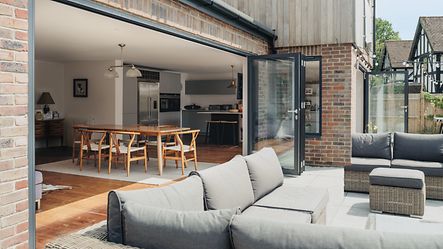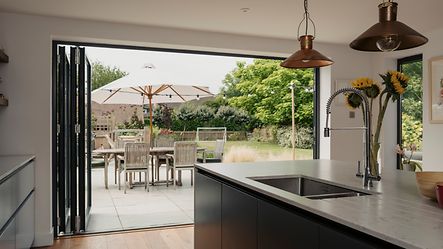 Project: Bexley Peep
Location: Midhurst, United Kingdom
Architects: Sloane and Brown Ltd.
Fabricator: Euro Aluminium Ltd.
Completion date: 2018 
Schüco systems: ASS 70 FD
Photographer: Tim Crocker
Find out more about Schüco sliding doors in our web special at