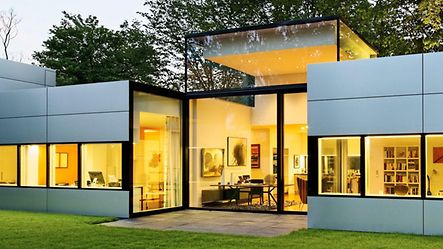 Information about the reference project
| | |
| --- | --- |
| Type of building: | Living |
| Products: | Sliding doors, Façades |
| Series: | ASS 70.HI |
| Location: | Cologne, North Rhine-Westphalia |
| Completion: | 2011 |
| Architects: | GATERMANN + SCHOSSIG |
| Specialist company: | Metallbau Udo Eichwald |
| Picture credits: | © Schüco International KG |
Object description
Object description
In 1962, Peter Neufert – son of the renowned architect Ernst Neufert – built Haus X1 on a plot of land in a park-like setting in the Hahnwald district of Cologne. The house now has listed building status. The widow of the architect, who passed away in 1999, is now having her easy-access retirement home built on the site. The architects Gatermann + Schossig, who also come from Cologne, are responsible for the design, planning and construction.
The newbuild takes the form of a cube, from which two sections are "cut out, raised and fl ipped onto the roof" (Gatermann + Schossig). This creates two rooms with high ceilings which add volume, provide expansive views of the park and allow natural light into the building. The facility rooms are located on the north-west side facing the street, and the fa- çades have a closed design accordingly. The southfacing side is glazed and opens out onto the garden and the existing building. The two glazed raised sections have been fi tted with the Schüco FW 50+ .HI aluminium system. The homogenous metal façade of the newbuild creates an independent and unobtrusive contrast to Haus X1, which is coloured. The fl ush-fi tted ribbon windows, implemented using the Schüco SFC 85 system, result in a calm overall composition.
Gatermann + Schossig created a home with a generous sense of space thanks to the use of large sliding doors (ASS 70.HI) as well. The various lines of sight as well as the sun and light conditions that change along with the time of day and the seasons result in an ever-changing, fascinating spatial experience. A well-coordinated energy concept, with a concrete core conditioning system, an air-to-water heat pump and controlled living space ventilation, ensures that the low-energy house standard is achieved.
Inspiration from the reference project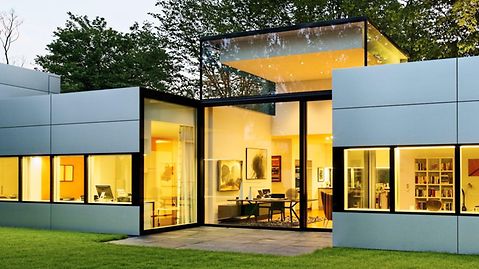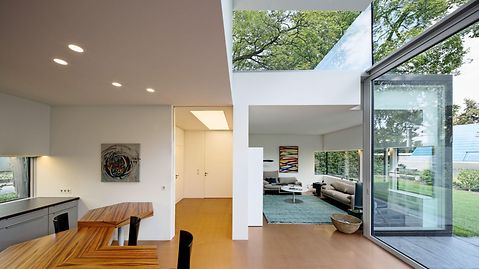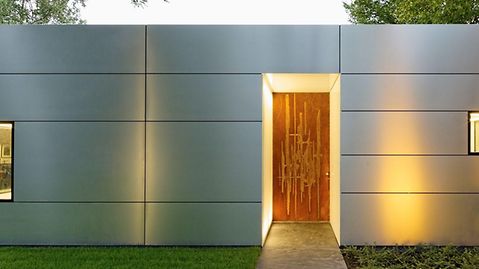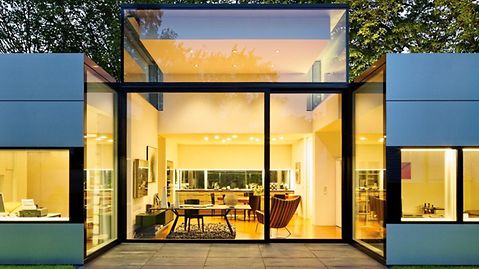 Register now..
Work material (e.g. tender specifications, BIM objects, CAD data, catalogues)
Note content
Direct contact to Schüco