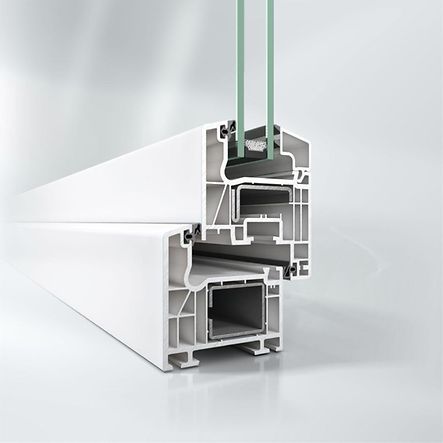 Schüco CT 70
The PVC-U system Schüco CT 70 AS with rebate gasket is based on a 5-chamber technology. Excellent thermal insulation properties and narrow face widths in three different vent contours are the distinctive features of this system.
Schüco CT 70 AS window systems are suitable for a wide variety of uses in both new-build and renovation projects. An extensive range of accessories ensures a high level of system security.
The two drainage levels guarantee an optimum protection aginst wind, rain and noise.
Silver-grey gaskets on white profiles for discreet appearance
White Schüco CT 70 PVC-U profiles are delivered with modern, silver-grey gaskets for a discreet appearance. Foiled profiles are equipped with black gaskets.
The PVC film range Schüco UnlimitedFinish and Schüco TopAlu are available for color design
Planning benefit
Perfectly sized reinforcing chambers to meet the highest structural requirements
Depending on structural requirements, different reinforcing profiles in the outer and vent frames ensure that the windows are highly robust and durable
Vent profiles are available in different contours (Classic, Rondo, Cava and Accent)
The renovation outer frames are specially tailored to country-specific building renovation requirements
Specially for the Dutch market: the block outer frames and their innovative shape reproduce the typical timber window look
Register now..
Work material (e.g. tender specifications, BIM objects, CAD data, catalogues)
Note content
Direct contact to Schüco