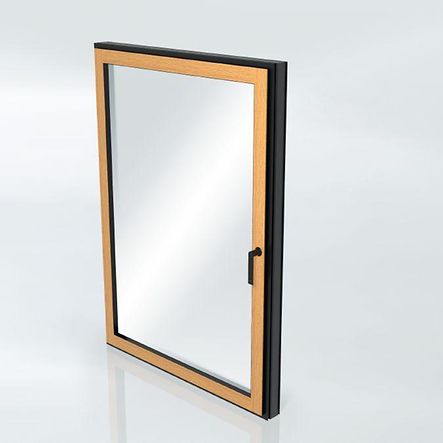 Design meets function: timber and aluminium combined in a single block window system
With AWS WoodDesign, the design possibilities offered by the Schüco AWS 75 BS.HI+ (Block System High Insulated) window system are expanded even further with a new material: timber. The room side of the Schüco WoodDesign vent profiles is clad with timber decorative strips, creating a window which combines the best of both worlds: the high performance characteristics and narrow profile face widths of an aluminium block window with a basic depth of 75 mm alongside the natural cosiness of a timber surface finish.
A selection of seven pre-defined oakwood surface finishes allows the windows to blend seamlessly with any interior colour scheme. Individual timber colours can also be requested in consultation with the metal fabricator. The design is rounded off with an attractive range of new and pre-existing handles. This allows for an enormous variety of design options, all while retaining the architectural advantages of an aluminium block window.
AWS 75 BS.HI+ WoodDesign is part of the Schüco AWS modular system, meaning the entire range of fittings and accessories is available to choose from. The functional and design properties of the window are also impressive, offering maximum transparency, narrow face widths and a concealed vent without visible glazing beads.
Planning benefit
Seamless integration of design and function with aluminium outside and a timber surface finish inside
A wide range of design options for the timber decorative strips
A diverse range of handles in three designs
A block window system with a basic depth of 75 mm offering maximum transparency, narrow face widths and a concealed vent without visible glazing beads
Can be combined with concealed Schüco AvanTec SimplySmart system fittings to allow for large vent weights and sizes
Burglar resistance to RC1N/RC2N/RC2/RC3 in accordance with DIN EN 1627