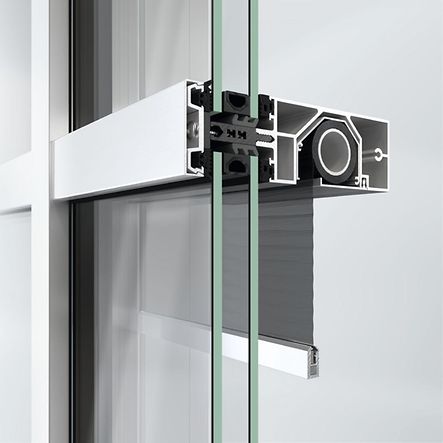 Internal sun shading, glare protection and screening – integrated and concealed in the mullion and transom
As an internal roller blind solution without bulky cassettes or lateral guides, the Integralmaster sun shading system provides elegant solutions for seamless integration in Schüco FWS 50/60 façade systems.
The roller blind cassette is installed using an installation-friendly, plug-and-play system in a specially designed transom. The drop bar of the blind retracts completely into the transom when open and thus guarantees a harmonious building aesthetic for the interior.
An integrated blind guide in the mullion profiles of the blind, which runs from the top downwards, ensures there is no glare or light penetrating from the sides.
The diverse selection of film and textile blinds allows you to create tailored sun shading, glare protection and screening, which meets the most varied requirements in transparency and opacity.
As an added bonus to user comfort, the wind and weather-resistant roller blind system is electrically operated.
Planning benefit
The interior design of the building is not compromised by retrofitted sun shading, glare protection and screening systems
No light entering from the sides thanks to blind guides integrated in the mullion
The two-part construction of the drop bar allows the colour design of the roller blind system and the façade to be identical
Drop bar fully retracts into the transom, guaranteeing a harmonious appearance on the inside
A diverse selection of film and textile blinds with various degrees of transparency for glare protection and screening with a tailored level of visibility to the outside or in combination with clear outside views
• Weather-resistant, low-maintenance system
Register now..
Work material (e.g. tender specifications, BIM objects, CAD data, catalogues)
Note content
Direct contact to Schüco