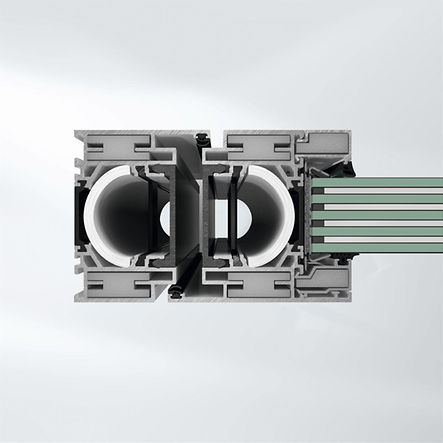 Aluminium fire-resistant construction with 90-minute fire resistance for maximum flexibility
Added security: The Schüco FireStop ADS 90 FR 90 aluminium fire protection system is part of the innovative Schüco FireStop system platform and offers a comprehensive fire door and wall range with 90 minutes of fire resistance – tested in accordance with EN 1634 / EN 1364 and DIN 4102.
Uniquely elegant, thermally broken fire-resistant constructions are possible thanks to maximum flexibility with planning and design. The narrowest profile face widths enable maximum transparency. Integrated closers, concealed door hinges and elegant fire-resistant constructions create a streamlined appearance. Glass or panel infills can also be used.
The numerous design options allow for doors with large clear opening dimensions for maximum ease of use, e.g. in public or commercial projects. A key additional benefit of the new system is its efficiency. The door units are impressive due to the high degree of prefabrication in the workshop and efficient installation. This ensures simple, fast and secure installation in the project on site.
The innovative, 3-chamber open-rebate profile geometry with a basic depth of 90 mm enables flexibility when there are changes in application while the building is in use. The subsequent addition of cables for providing electricity to the doors or a change in the lock technology, e.g. from single-point locking to multi-point locking, is possible without great effort.
The pioneering fire-protection system platform offers specifiers, architects and fabricators new flexibility when it comes to reliably and easily adhering to building regulations – with a range of options to meet the highest requirements in terms of security, comfort and design.
Planning benefit
New dimensions in terms of size and transparency: door types with large clear opening dimensions
Can be used with doors in the widest range of wall types; installation in F 90 fixed glazing also possible
Tested fixed glazing for internal and external use
Simple and flexible changes of application while the building is still in use, e.g. switching from single to multi-point locking or subsequent installation of electric strikes
Significant expansion of the range of hinges and locks
Flush-fitted attachment to exposed concrete possible
Identical range of fittings across the platform, e.g. concealed fittings for an attractive combination of fire protection and stylish design
Register now..
Work material (e.g. tender specifications, BIM objects, CAD data, catalogues)
Note content
Direct contact to Schüco